Sometimes you just have to use what you've got. Like when Charlie Slagle's Katrina mission trip needed to cut a water melon: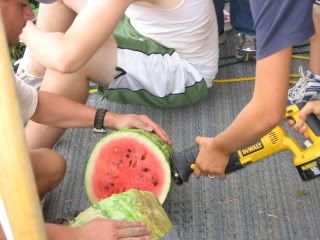 Yes, that's the DeWalt DC385K 18-Volt Ni-Cad Cordless Reciprocating Saw you see there slicing melon.
Later that evening Charlie and his crew filmed their first episode of "Cooking with Power Tools."
Which fits very nicely with the video Adam found of high school kids using power tools to carve out hundreds of pumpkins.
Anyone else have images or video of using power tools to chop fruit or vegetables? Not that we promote these kinds of things or anything ;)