You last heard of Frank Pellow in The Story of a "Forum Assisted" Woodworking Shop: Frank Pellow's Shop Build Journal.
His latest chronicles – which haven't made it to book status quite yet, perhaps because he's not finished yet – describe his new work bench.
And what a bench it's shaping up to be!
He got the idea after observing and investigating Rick Thom's mobile work bench (so really it's more of a son-of-a-bench… badump ching!). He took many notes and then brought up his project at FamilyWoodworking where he began collecting more great ideas in this thread: Frank Pellow's Woodworking Bench Project.
And here's something of the guiding principle, in Frank's words: "I want to build a practical and useful bench but spend as little money as necessary on it."
Here are some of Frank's notes on Thom's bench that I thought might interest you:
• Bench size: 27″ by 72″
• Bench height: 33″
• Cabinet size: about 24″ by 48″
• The top is made from 2″ by 1″ maple glued together with Elmer's Probond. It was laminated in two sections each of which was then run through a planer. The two sections were then joined together and a skirt was affixed to the edges. It was then covered all-round with two coats of shellac. Rick says that the skirt at 3/4 inch on the long sides is too narrow and he will augment it to properly support clamping.
• The cabinet support pieces are pine and are joined with mortise and tenons. The sides are 1 inch plywood. The drawers are maple with dovetail joinery and are on "standard" side drawer runners.
• The bench top just sits on the cabinet.
• The end vise is from Lee Valley (catalogue number 70G08.02) The front vise is a Record clone.
• The bench is mounted on a General International mobile base. The bench is very easy to move but, once the wheels are lowered, it is very stable.
• The 3/4 inch dog holes are spaced 6 inches apart. They are angled 2 degrees towards to vice. All holes were drilled with a auger bit in a hand held drill employing a simple shop made jig.
As of Wednesday March 28th he'd just been sanding the top: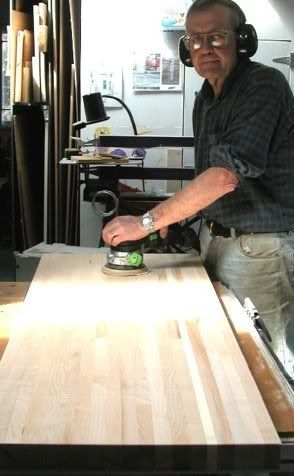 So check out Frank's latest project: Frank Pellow's Woodworking Bench Project and I'll be sure and update you when he's gotten finished as I'm sure his thoughtful writings about it will be filled with great tips, ideas and observations.
Update – Frank wrote to me today (04-17-07) to let me know that he's made a considerable push on his bench. He's got some great in-progress pics up of work he's doing on the bench.
Here are his chalkboard plans for the base: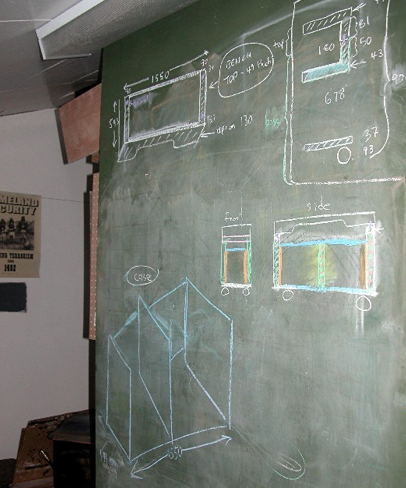 Go check out Frank's notes for some great ideas for your work bench!