Frank Pellow's a one-man publishing house in FamilyWoodworking.org.
We write about his work regularly in the ToolCrib blog because he's so clear and specific in documenting his work, and so eager to share his ideas with other woodworkers.
Recently Frank faced a problem that many of us just shut away behind closed doors – under-sink clutter.
Here's the situation underneath the sink in his downstairs bathroom: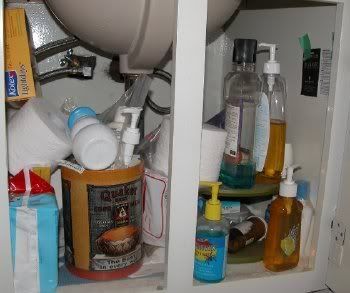 He decided he didn't want to face the same clutter under his newly remodeled master-bedroom sink…
"I came up with a design that has a sub-cabinet with drawers on each side coupled with an open area for large bottles and things like that in the middle. The cabinets as well as the top drawer were built with a cut out of the corner to accommodate the shut-off taps."
Here are the cabinets he built: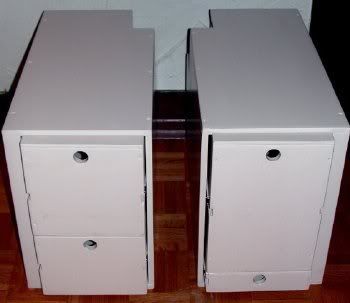 Can you say CLUTTER BUSTER???!!! That's AWESOME FRANK!
Apparently they were a pretty tight fit under that sink…
Visit his thread in FamilyWoodworking: Building drawers for a crowded under-sink cabinet to learn more about his technique and process. If you have any questions post them in the thread at Family Woodworking or here in this post.
And be sure to check out the other projects of Frank's we've covered in ToolCrib:
Frank Pellow's Work Bench Chronicles
The Story of a "Forum Assisted" Woodworking Shop: Frank Pellow's Shop Build Journal