Sign up for the ToolCrib newsletter and get great woodworking resources like this in your inbox!
The table saw – in all its shapes and sizes – retains its position as a woodshop mainstay, despite the growing number of woodworkers, professional and hobbyists alike, who've discovered one of several table saw alternatives. This guide offers table saw shoppers insight into the strengths and weaknesses of the various types of table saws on the market. Further, it links out to various resources that will help make your decision an informed decision.

Why is the Table Saw Such a Woodshop Mainstay?
I believe it's because of the table saw's precision, versatility, overall utility and tradition. Chris Baylor of About.com puts it like this: "A good table saw becomes the centerpiece of the workshop, as the woodworker uses it to rip, square, miter, groove, shape and join pieces." David Wright of Badger Pond says, "No other tool does so many things with such clean results in so little time."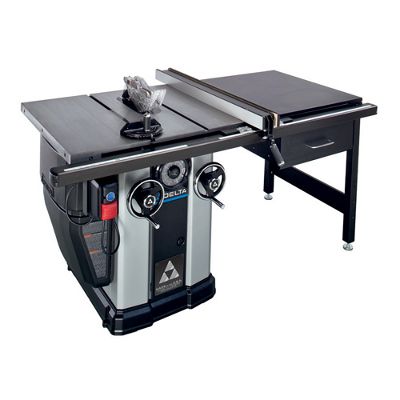 The Delta 36-L336 10″ 3 HP, 220V, Single Phase, Left Tilt Unisaw >>
Is the Table Saw a Woodworking Necessity?
No. It's not. I can hear some of my readers spitting coffee on their monitors, but the table saw is NOT a necessity. I'm going to list out some articles that support this position and then move on to develop criteria and questions that will help you pick which type of table saw is right for your needs, if that's what you decide will best suit your shop.
Table Saw Alternative Resources:
Woodworking Without A Table Saw (focus on band saw)
DIY Table Saw Alternative: EZ Guide + Circular Saw
3 Questions: Woodworker Know Your Needs Before Spending Big Money!
So now that I've gotten that anti-table saw stuff out of my system, here's how you should approach your next table saw purchase. First off, you should start making a list of how you currently work with wood, and then add to it how you PLAN to work with wood in the near term. Having this list with you will help steer you towards the right tool purchase.
1) How Often Do You Work With Wood?
Once a month or all day long? This will make a huge difference in your decision. Though I would typically not recommend a bench top table saw to anyone, there are a few cases where it might actually make sense for a new woodworker (especially in space or money restrictions).
2) How Long Have You Been Working With Wood?
If you're just getting started – even if you have grand aspirations to craft your entire living room suite – you should not be gunning for a cabinet saw like the fine Delta Unisaw. Maybe it's because I'm notorious for my 3 month obsessions, but I would not advise even the most ardent brand newbie to go past a Jet contractor saw.
3) What Are Your Most Common Cuts?
Ripping lumber? Breaking down sheet goods? Crosscutting? Re-sawing? Knowing your most common types of cuts going into your decision will help you make the right decision. If you're primarily going to be breaking down sheet goods then a bench top isn't going to do the job…
The 4 Types of Table Saws
1) Benchtop Table Saws
A bench top table saw is something of a (mild) step up from a circular saw. As the name suggests they're designed to sit on your bench top and are light and portable. You'll get more accuracy than your circular saw alone, but you won't be able to rip large pieces of wood, nor will you be able to break down sheet goods. In fact, if you're seriously considering a bench top saw I'd seriously nudge you to consider a guide rail and circ saw. Then again, the Jet bench top below is only a notch or two below a contractor saw and the enterprising woodworker will always find a way to make due safely with what he's got.

The Jet JWTS-10, 10″ Left Tilt Workshop Table Saw >>
2 Good Choices for a Benchtop:
Jet JBTS-10BT-3, 10″ Left Tilt Bench Top Table Saw
Bosch 4100-09 10″ Worksite Table Saw w/ Gravity-Rise Wheeled Stand
2) Contractor Table Saws
A contractor saw is likely to be the best choice for the serious DIYer or contractor who likes using table saws on his job site. If you're ripping very dense woods on a regular basis you may not have enough engine from a contractor saw, and they're more likely to go out of alignment than your average cabinet saw. That said, if less cutting power, more vibration and dust are acceptable to you then a contractor table saw is what you should consider. For the space-conscious too a contractor table saw is a great choice, and their electric draw doesn't require that you re-wire a circuit. As a side note, the reduced power (1-2 hp) makes for less-severe kickback.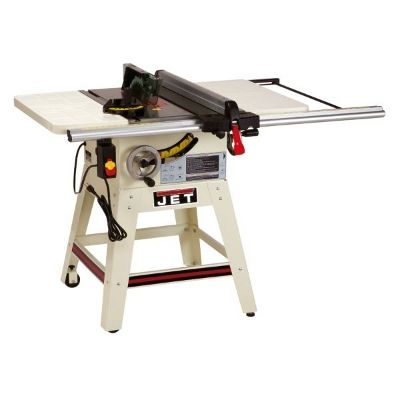 Good Contractor Table Saws:
Jet JWTS-10, 10″ Left Tilt Workshop Table Saw
Powermatic 64A 10″ 1-1/2 HP 1 Phase 115/230V Table Saw w/ 50″ Accu-Fence
Delta 36-981 10-Inch Left Tilt 1-1/2 Horsepower Contractor Saw
3) Hybrid Table Saws
(note, we published Top 10 Hybrid Table Saws on 01-02-09)
I found a great article on Tools Of The Trade that sums up a hybrid saw quite nicely: "The hybridization is usually assumed to be the smaller contractor motor paired with a cabinet stand and internal motor mount; but more accurately, the true distinction is based on the trunnion design. Hybrid saws use contractor saw trunnion assemblies, which are built lighter and typically hang mounted from the bottom of the table versus the beefier cabinet saw trunnion assemblies, which are supported by the top of the cabinet itself." A hybrid table saw is your middle ground between a contractor saw and a cabinet saw – it should give you increased accuracy and power but without the price tag and overall weight of a contractor saw.
Good Hybrid Saw Choices:
Grizzly G0478
Jet JWSS-10CSPF
Delta 36-717
4) Cabinet Table Saws
"Cast iron and power." If you have the room, the need and the money then a contractor saw is probably already at the top of your list. The closed cabinet base makes dust control easier and gives this saw its name. With the weight of all that cast iron and motors in the 3hp-5hp range you won't find a piece of tree that won't cut smooth as butter (so long as you have a good blade…). The added power reduces the number of burned cuts too. These saws typically require a 220V outlet, so call your electrician in advance.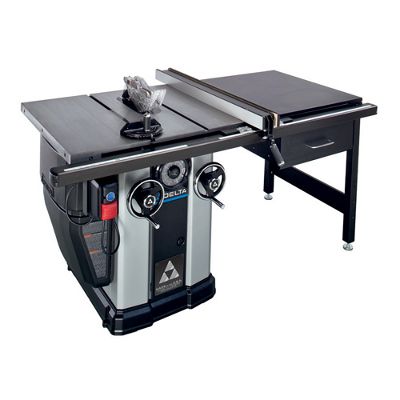 Good Cabinet Saw Choices:
Delta 10″ 3 HP, 220V, Single Phase, Left Tilt Unisaw w/ Biesemeyer (More Delta Unisaws)
Jet JTAS-12X50-1, 12″ Right Tilt Arbor XACTA® Table Saw w/ 50″ XACTA® Fence II (More Jet XACTAs)
Powermatic PM2000 10″ 3 HP 1 Phase 230V Table Saw w/ 50″ Accu-Fence & Rout-R-Lift Powermatic Table Saws
Top Table Saw Resources:
Choosing A Tablesaw: Contractor Or Cabinet?
Contractor Table Saws
Hybrid Table Saws
Other Table Saw Resources You'll Find Useful:
Cabinet Saw Versus a European Saw
Table saw (wikipedia definition)
The Right Table Saw for Your Shop
Table Saws – the Workhorses of the Wood Shop
Table Saw Techniques
#1 Shop tool: your table saw
Buying Guide for Table Saws (Lowes)
Table Saws Buying Guide (Home Depot)
PM Tests Nine Portable Table Saws
Benchtop Saws Originally in Workbench No. 251 (February 1999)
Choosing a Table Saw From: Woodcraft
Choosing and Using Table Saws (focus on benchtops)
Honesty from General about 50-220 Hybrid
Contractor Saw Dust Collection
Table Saws Originally in Workbench No. 262 (December 2000)
Jet Contractors Table Saw