When we began redesigning the ToolCrib.com experience we decided to think of our site as a power tool itself – a power tool you can use to SAVE MONEY. Seeing as how all power tools come with instruction manuals we thought we'd put together a few tips so that you can be sure to save as much as possible when you're shopping on ToolCrib.com!
We're Not Just Amazon Anymore…
First off you should know that ToolCrib.com is now a comparison shopping engine for power tools from FIVE DIFFERENT VENDORS. For those of you who've been visiting our site for a long time, we're not just Amazon tools anymore. We added Home Depot, Tool King, Northern Tool and Rockler to our list, pushing us to well over 600,000 tools in our database – that's about 590,000 more tools than would fit comfortably into a catalog.
The Comparison Shopping Power Tool That Saves You Money
We built ToolCrib.com into a tool that enables you to easily place power tools side by side so you can compare price and tool description. To test out this function go ahead and conduct a search on something like Bosch Router.
You'll get the top ten results list of over 500 "Bosch Router" results from our data base!
Searching by Model Number
If you know the model number of the tool you're looking for then you can find results from all the vendors who carry that model. For example, typing the term Makita 3612 into the ToolCrib.com search box gives you results that look like this (click here to see results).
Making Comparisons:
Now go down the list and click the compare button on tools you'd like to add to your comparison sheet. The compare button is located beneath the orange Buy Now button at the far right of the tool listing.


Once you've clicked a comparison button it changes to say "View Comparison," but don't click on the view comparison link until you've added another tool for comparison!


Once you've selected a number of tools to place side by side THEN you can click the "View Comparison" button on ANY of the tools you've selected. You will see something like this: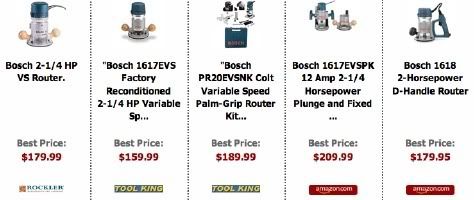 Once you've lined up your tools for comparison making the decision on which one to buy will be much easier! And you're always welcome to call ToolCrib.com's order line to make your purchase for you! 1 (888) 4TOOLCRIB.
Other Money Saving Resources:
Got Gloat? ToolCrib.com's Guide to Getting Great Power Tool Deals from Amazon