I spotted this on my latest visit over to FamilyWoodworking…
Introducing the $35,000 rocking chair: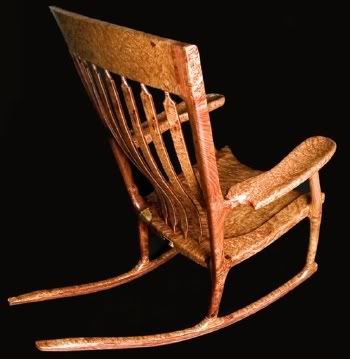 It's made of Amboyna Burl by Parker Converse II. He says: "These chairs take about three times longer to make and the cost of materials and handling is about 10 times that of one of my lower priced rockers. The extra time, effort and cost are worth it, however, and the final product is simply magnificent."
He's got lots of pictures of the process, including one of the fellow who gets the Amboyna from Laos on elephant-back.
Here's the thread from FamilyWoodworking: $35,000.00 chair
More about Amboyna Burl:
"A rare, exotic hardwood that grows in Southeast Asia and has a fragrant aroma. It can vary in color from yellow to golden brown to red, and is generally considered excellent for both turning and finishing."
AMBOYNA Pterocarpus Indicus >>
Amboyna for sale:
"All of our Amboyna Burl wood, which is known scientifically as Pterocarpus Indicus, has been painstakingly extracted from the jungles of Southeast Asia — and often transported (at least initially) via elephant."
About Amboyna Burl