There's no such thing as the BEST all time dovetail jig. I learned that lesson most clearly from Jack Loganbill over at the Woodshop: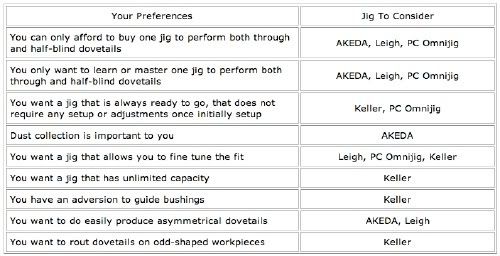 If there's one thing you take away from this article it's that you really DO need to do your homework. You have to know what kinds of dovetails you'll be making the most and have a firm budget set.
This article starts with the top dovetail jig review resources I could find followed by a survey of a couple different forums discussing their favorite dovetail jigs. It closes with videos from some of the dovetail jig manufacturers so you can get a better idea of what they look like in action. The 'Creekers set me off on this jig odyssey with the forum thread: Best Dovetail Jig?
Top Dovetail Jig Review Resources:
What is the Best Dovetail Jig?
woodshop demos dovetail jig shoot out
Top Dovetail Jigs from the Forums:
Don't use these as a buying guide so much as a vote of confidence for the jig you have in mind…
1) Leigh Dovetail Jigs: 12 votes total
Leigh D4: 7


Leigh D4 Resources:
Leigh D4 Dovetail Jig Review (New Woodworker)
Leigh D4-24 Dovetail Jig Review (Benchmark)
Leigh versus Akeda dovetail jig (Benchmark)
2) Akeda DT Jig: 5 Votes


Akeda jig +100 for customer service
Jack Loganbill's Akeda Review
John Lucas on the Akeda
3) Porter-Cable Dovetails: 4 Votes
PC Omnijig: 3 votes
PC 4212: 1 vote

4) Incra Jig: 3 Votes

5) Gifkins Dovetail Jig: 3 Votes

forum discussion: Any Gifkins dovetail jig users out there?
6) Woodrat: 2 Votes


Woodrat review
7) Trend jig: 1 Vote

Forums Cited:
What's the best dovetail jig for the money? (Woodworking Talk)
Best Dovetail Jig? (Sawmill Creek)
Best dovetail jig? (Router Forums)
Dovetail Jig Videos From the Manufacturers:
Leigh D4R Dovetail Jig summary

PORTER-CABLE Jigs: OMNIJIG

Woodcraft Cutting Dovetails With The AKEDA Dovetail Jig

WoodRat: Through Dovetailing