Sign up for the ToolCrib newsletter and get great woodworking resources like this in your inbox!
Post updated 6-19-09… Added photos + 15 new plans! See just the updates here >>
The humble sawhorse. It's often the woodworker's first project. You often inherit them from woodworkers who've passed. No matter where they come from they are the unsung heroes of many woodworking projects. I found a great thread over at woodnet (show me your saw horses) that got me hunting down all the sawhorses I could find. I've corralled a good mess of them here for you – 25 (now 37) different plans.

If you've built any of these I'd appreciate your thoughts. If you prefer the metal/plastic collapsible kind let me know what brand and why. You can leave comments on this post or email me at gfrench@thetoolcrib.flywheelsites.com.
The sections are as follows:
1) Celebrity Saw Horses
2) Wackiest Sawhorse
3) Best Sawhorse Idea I Couldn't Find Plans For
4) Sometimes You Need a Mobile Carpenter Bench, Not a Sawhorse
5) Your Basic and Free Sawhorse Plans
6) Space Saving Sawhorses
7) Sawhorses for Sheet Goods
8) Sawhorses Etcetera
9) 31 More Free Plan Collections from ToolCrib.com
1) Celebrity Saw Horses:
If a woodworking celebrity designed it or uses it… it has to be good, right? Well, you'll have to be the judge of that. I just thought it would be fun to break them out of the pack :)
Norm Abram's Picnic Table and Saw Horses


Why did they put the sawhorse and picnic table together? Who's gonna pay 6 bucks for sawhorse plans? That's more than the cost of materials! Anyways, there are folks who have built this style of sawhorse and love it. This is the only non-free plan I link to.
Roy Underhill's Sawhorse Design (PDF)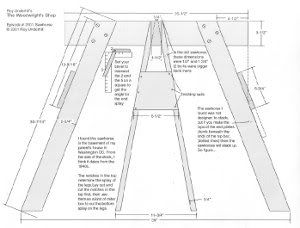 Underhill's one of the original galoots. His sawhorse is solid and suitable for corded tool users too – it's based on a sawhorse he found in his parents' basement.
Chris Schwarz Sawbench


Chris Schwarz is the editor of Woodworking Magazine. He's a big handtool aficionado too, a galoot if I understand correctly :) His Sawbench is well suited for hand tool users: Free Construction Drawings for the 2008 Sawbench.
Schwarz's sawbench is similar to this Sawing Trestle plan from the 1900s.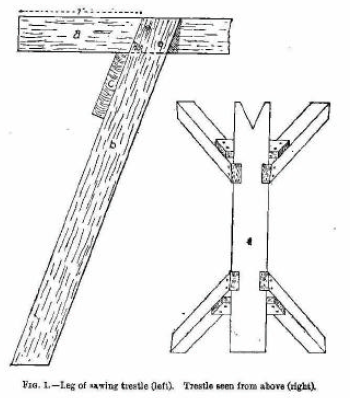 2) Wackiest Sawhorse:
This is just a patent, so don't take the idea and make millions from it. You'll get sued. That said, it might be a good influence on your design if you're crafty enough to figure out how to build one.
3) Best Sawhorse Idea I Couldn't Find Plans For:
SawPony – shorter saw horses for when you want to put a foot or a leg up on the work you're cutting to help hold it down. I guess you could just make shorter saw horse legs… Here's where I read about them: show me your saw horses
4) Sometimes You Need a Mobile Carpenter Bench, Not a Sawhorse:
Are you using your sawhorses as mobile carpenter benches… setting up your chop saw on them, etc… It might be that you really need a mobile carpenter bench.
Mobile Carpenter's Bench from Tim Carter

Or… maybe you just want to store more tools on your sawhorses. Check out these sweet sawhorses: Tool Tote Sawhorses.

5) Your Basic and Free Sawhorse Plans:
Sometimes vanilla is the best flavor. These sawhorses are straight ahead, no nonsense sawhorses that you will have for the next 25 years. So pick your plan carefully ;)
The Cheapest, Easiest, Ugliest, Most Functional Saw Horse Known to Mankind I'll give it easiest, but I'm not so sure about ugliest…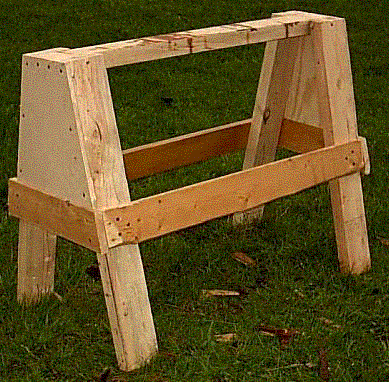 a functional, strong and elegant sawhorse

Basic Woodworking Sawhorse Plans

Scrapwood Saw Horse Plans – Metric

Mr. Wizard's Sawhorses (PDF)

Vintage, 1991 Sawhorse Plans from Popular Mechanics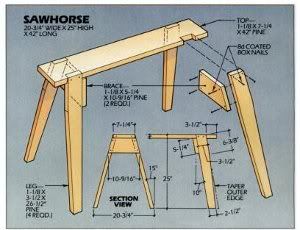 Sawhorse Classic from Fine Woodworking

6) Space Saving Sawhorses:
Sometimes space is at a premium. These sawhorses will politely fold up or stack up and get out of the way when they're not in use.
The "Richard": The Ultimate Knock-Down Sawhorse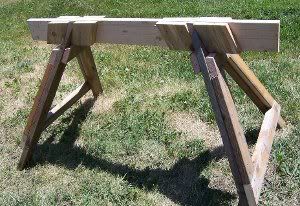 Foldaway Vise Table & Sawhorse (PDF)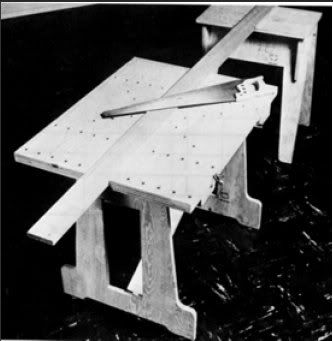 Sawhorse – Knockdown Workstation Accessories

Simon Shea Stackable Sawhorse Plans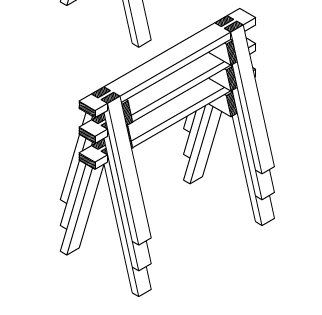 Light Folding, Medium Folding, Heavy Fixed Sawhorse Plans

7) Sawhorses for Sheet Goods:
Sometimes you need a little extra help with those sheet goods. These sawhorses will gladly and ably pull more than their own weight.
Sheet Rack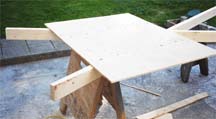 Knock-Down Sawhorse Cutting Grid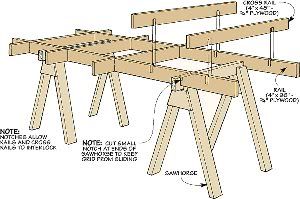 8) Sawhorses Etcetera:
I didn't know which category to put these sawhorses in, but I knew I needed to include them. Here's everything else that didn't fit in the categories above.
chain saw sawing horse (pdf)

Replaceable Inserts Save Sawhorses

Add an adjustable outfeed roller to your sawhorse

Low-Standing Sawhorses

Other Resources:
Workshop Sawhorses = 29 plans with pics and everything
Any Sawhorse Plans?
Free Saw Horse Plans
Saw Horse Plans
>> 31 More Free Plan Collections by ToolCrib.com
11 Free Guitar Plans, 20 Guitar Building Jigs and 35 More Resources for Newbie Luthiers
17 Free Garage Woodshop Plans: Ingenious Space Savers for Garage Workshops
52 Outdoor Bench Plans: the MEGA GUIDE to Free Garden Bench Plans
16 Planer Table, Cart, Sled and Jig Plans and Resources
10 Downdraft Table Plans and Build Notes for Wood Shops
14 Work Surface Expansion Plans: Workstations, Carts and Worktables
8 Free Benchtop and Contractor Table Saw Workstation and Outfeed Table Plans
25 Free Backyard Playground Plans for Kids: Playsets, Swingsets, Teeter Totters and More!
14 Circular Saw Jig Plans: Crosscut Jigs, Ripping Jigs and More!
10 Free Wooden Bike Plans: Make Your Own Wood Recumbent, Bamboo Bike and More!
11 Free Miter Saw Stand Plans + 9 Pictorial Idea Guides, 2 Videos, 6 Paid Plans and MORE!
7 Table Saw Jointing Jig Plans: Straight Edge, No Jointer
13 Free Clamp Storage Plans: Space Savers, Mobile Clamp Carts, Pipe Clamp Racks and MORE!
15 Free Table Saw Outfeed Plans: Mobile Tables, Folding Tables, Outfeed Stands and More!
21 Free Cat Furniture Plans: Free Plans for Cat Trees, Condos, Scratching Posts and MORE
19 Free Jewelry Box Plans: Swing for the Fence with a Wooden Jewelry Chest!
The 38 Most Popular Free Woodworking Plans of 2008
31 Free 3D Puzzle Plans for Woodworkers: Burrs, Japanese Boxes, Tangrams and MORE
25 Fast, Easy and Free Woodworking Plans for Last Minute Christmas Gifts
Build Your Dream Workshop: 23 Free Workshop and Shed Plans
12 Free Workshop Storage Plans: Tool Cabinets, Rolling Carts, Under Stair Storage and More
20 Free Cutting Board Plans + the 4 that Blew My Mind
15 Free Mobile Base Plans: Put Your Power Tools on Wheels
Wood Storage 101: 14 Lumber Storage Plans and 7 Storage Tips
32 Free Picnic Table Plans + Top 3 Most Awesome Picnic Table Plan Awards
15 Free Toolbox Plans for Woodworkers
24 Free Sawhorse Plans in the Hunt for the Ultimate Sawhorse
ToolCrib.com's Ultimate Guide to Free Woodworking Workbench Plans
9 Sandpaper Storage Ideas (+ free plans)
ToolCrib.com's Ultimate Guide to Free Router Table Plans
ToolCrib.com's Ultimate Guide to the Crosscut Sled