If you ask a woodworking forum which contractor saw you should buy at least one guy will tell you: "take your contractor saw money, shop craigslist and buy a used cabinet saw." This is great advice IF you have the space for one and you NEVER need to move it. It's also great advice if you're cutting denser woods and want ZERO vibration. That said, there's nothing wrong with DIYers and woodworking hobbyists using a contractor saw with a decent fence – you'll get great, repeatable cuts that are right on the money.
Check out Getting the Most Out of Your Benchtop or Contractor Table Saw for the heartwarming tale of woodworkers who put great fences on POS saws and got great performance from them.
A recent thread at Woodnet caught my attention though, as I'd never really realized what a contender the Rigid contractor saw is. One forum member asked for opinions comparing the Rigid 3650/60 to a Delta 36-979. Rigid came out the winner… by a nose.
Rigid TS3650: 6 Votes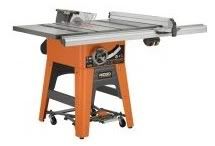 Delta 36-979: 5 Votes

The saws are actually so close in quality (according to WoodNetters) that – if you're considering one or the other – you should consider seeing them both in person before making your final decision. Here are a few bullet points that could help you decide too, based on what's most important to you.
>> rigid has built in dust collection
>> delta dust collection is not great – asthmatics beware!
>> the rigid fence is a solid fence but doesn't play well with other fences
>> delta works with the T2, Unifence and Biesemeyer fences
>> rigid has better built in casters
>> delta may have a higher resale value
Other Contractor Saw Resources:
Delta 36-979 10″ Left Tilt Contractor's Saw (reviews from LumberJocks)
Ridgid TS3650 Tablesaw (review by Phil Bumbalough)
Getting the Most Out of Your Benchtop or Contractor Table Saw
$600 For New Contractor Saw: Bosch vs. Rigid vs. Grizzly vs. Jet (note that he went with the Rigid after all…)
A Table Saw Buying Guide: Benchtop vs Contractor vs Cabinet vs Hybrid