Do you do your woodworking on the run? Do you need something to haul your tools around to jobs around the house or city? This list of free tool box plans puts your tools where you need them most.
I separated them out like this…
>> Top 4 "Notable" Toolbox Plans
>> 3 Advanced Toolbox Plans
>> 5 Basic Toolbox Plans
>> 3 Toolbox Plans For Kids
I found lots of tool storage plans that weren't really portable toolboxes… I'll be doing a separate post for them.
>> Top 3 "Notable" Toolbox Plans
1) Most… Innovative? ToolBox:
I can't imagine anyone actually using this, except maybe if Tage Frid showed up for some on-site chair repair ;)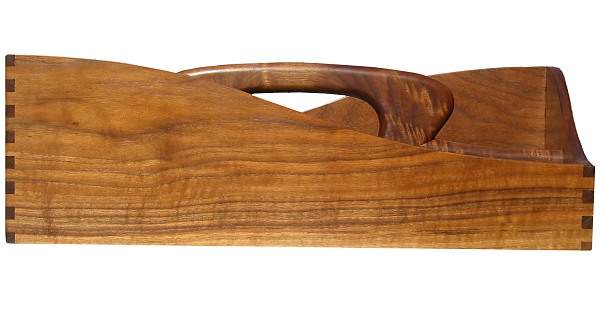 From the designers: "This unique toolbox includes sides and ends that incorporate a wavelike theme. The corners are assembled with box joints and the bottom panel is fitted into a groove that runs around the entire periphery of the toolbox." Unfortunately there's no actual plan, just a description of how the "unique toolbox" is put together.
2) Handiest ToolBox: The Tool Tote by Gary M. Katz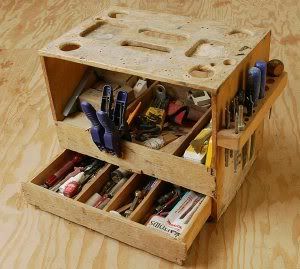 The Gary Katz Tool Tote bumped the "Tool Tote, Tab and Slot" from the "handiest tool box" position (see it below). Why? Read all the problems Katz solved with his creation: "I needed something I could organize and something I could stand on, something that would get me to the very top of a 6/8 door, something that would help me reach the pins on an 8 ft. door, something that would let me see over the top shelf in a closet. And I wanted something I could sit on, too, while chiseling tricky mortises in a jamb or drinking a cup of coffee on a break."
It's a well organized tool carrier + step stool + place to sit and drink coffee. Somebody stop me I'm about to jump up from this computer and build one right this minute… (thanks to PutnamEco who suggested this toolbox in the comments below)
Also… note the Altoids container there in the tool tote… could Gary Katz possibly be a cheapskate woodworker? ;)
Check out plans for The Tool Tote by Gary M. Katz >>
3) Most "Classic" of the Classic Toolboxes: Toolbox, Simple DIY from PM


Why this design rocks: "The toolbox is designed to minimize fastening into endgrain – screws and nails grip much better when driven into the face or edge of a board." Plus it's a nice twist on the most basic style.
How to Build a Toolbox: Simple DIY Woodworking Project
4) The "Overachiever" Tool Box: Tool Tote Sawhorses


"These sawhorses feature a convenient bin in the base for storing tools, clamps, and other items. And the divided upper tray is a great place to keep often-used hardware and hand tools organized and within easy reach. But here's the best part — you can adjust the top of the sawhorse up and down." – Thanks to PutnamEco for telling me about the Tool Tote Sawhorses… they are SWEET! But will the adjustable height function still work in six months? Who cares! These get an A+++ for AWESOME.
Tool Tote Sawhorses
>> 3 Advanced Toolbox Plans
Shop-Built Gear Box (pdf)

Carpenter's Toolbox with Rabbet Joints

"Handiest" Toolbox: Tool Tote, Tab and Slot

>> 5 Basic Toolbox Plans
Build a Classic Wooden Toolbox

>> 3 Toolbox Plans For Kids >>
Child's Toolbox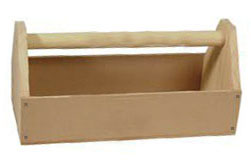 Building a Child's Wooden Toolbox
More Toolbox Plan Resources:
Free woodworking plans for building a toolbox or tool chest.
Workshop Toolboxes and Cabinets
Free Tool Box Plans
More Free Woodworking Plans:
24 Free Sawhorse Plans in the Hunt for the Ultimate Sawhorse
ToolCrib.com's Ultimate Guide to Free Woodworking Workbench Plans
9 Sandpaper Storage Ideas (+ free plans)
ToolCrib.com's Ultimate Guide to Over 4,000 Free Woodworking Plans
ToolCrib.com's Ultimate Guide to Free Router Table Plans
ToolCrib.com's Ultimate Guide to the Crosscut Sled