If you're a potential builder/owner then this post will interest you. I went searching today for free house plans… our sawhorses, workbenches and router tables were such a big hit ;) There's not too much out there in the way of totally free plans. 6 that I could find anyways.
Free House Plan – The Delafield, a Gracious Country-Style Ranch


Free for a limited time (until November 1st). Designed by Jerold Axelrod, the Delafield is a formal yet gracious country ranch house plan. This balanced, formal plan offers a tall covered porch flanked by beautifully trimmed flat bay windows.
The Laura


2 bedrooms, 1 bath starter home PDF file with 9 sheets printable to 24″ x 36″ paper. Designed to 2006 International Residential Building Code (IRC) and 120 mph wind codes, this plan is permit-ready.
4 Free Green Plans


These folks offer 4 free "green" house plans but you have to pay for any customizations. Also, to download any of the plans you have to join their site. Not a bad trade though – your email address for free plans…
UPDATE: 266 Free House Plans from North Dakota State University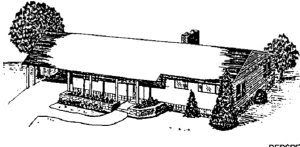 This unbelievable resource comes from Justin in the comments. I'm going to poke around on other college sites and see if I can't rustle up some more free plans!
Note that:
1) Plans range in age from 1933 to 1988… these are NOT new, stylish home plans. The older homes are designed with coal heat in mind.
2) Downloading PDFs is free. 18 x 24 inch (blueprint-size) plans are $4.00 per page.
3) Not all plans are actually for houses (I realized this after counting…). Some are for garages, some stairs, some for decks. Mostly they are houses though.
Update 2:6 Accessible Homes from NCSU College of Design



Accessible Stock House Plans Catalog — a catalog of floor plans and perspectives for six accessible homes…
Do you know of any other free house plans out there? I mean totally, no strings free too ;) Let me know.
Other Resources:
ToolCrib.com's Ultimate Guide to Online Home Remodeling DIY Resources
Charles and Hudson