Here in North Carolina the sweetest picnic season is just arriving… Fall! I woke up this morning with visions of picnic tables dancing in my head and I just knew there would be some crazy, practically ludicrous picnic table plans out there. I only found a few worthy of an award, but WOW, we've got some beauties there in the awards section :) In all I found 32 free picnic table plans out there on the web – plus some helpful videos and even a picnic table faceplant (in the fun with picnic tables section).
Sign up for the ToolCrib newsletter and get great woodworking resources like this in your inbox every two weeks!
So here ya go, a complete resource for building a picnic table from scratch. 32 plans and 11 picnic table sections. Enjoy!
1) Picnic Table Plan Awards
2) Overachievers: Hexagonal, Octagonal Picnic Table Plans
3) Classic Picnic Table Plans
4) Separatists: Benches Separate from the Table
5) Picnic Tables For Kids
6) Wood Suitable for Picnic Tables
7) Finishing Your Picnic Table
8) Picnic Table Videos
9) Fun with Picnic Tables
10) My Picnic Table Plan Sources
11) More Free Woodworking Plan Goodness from ToolCrib
1) Picnic Table Plan Awards
Our expert panel of judges (er, ok it was just me) declared these picnic tables to be the most awesome and outstanding picnic tables from the 32 picnic table plans I uncovered.
Most Awesome: retro 80's hexagonal BEAUTY: THE PICNIC TABLE EVOLVES


Individual, butt-cupping seats for each diner, a revolutionary hexagonal shape, plus an undeniable 80's flare. You can't beat this picnic table people – it's the queen mother of them all. Take a look and you'll see why Mother Earth News titled this article – in all caps no less – THE PICNIC TABLE EVOLVES. I'm not sure it's evolved much further since this one.
You can check this beauty out here >>
You can see the diagrams in the image gallery >>
Most Awesome runner up: A Picnic Table that Folds into 2 Park Benches


Step back Jack! This picnic table will amaze your guests. It's more than a conversation starter – it will be the focal point of your entire backyard bbq for at least 2 seasons. You will have some guests who will not be able to stop talking about how cool this thing is. Guests like me for example.
Check out the foldable picnic table plans >>
Here is a video of building the foldable picnic table:Most… sheltered award? THE SHELTERED TABLE


This one wins the award of most sheltered. Also, it's the only sheltered picnic table plan I found. It's outstanding I suppose mostly in its determination to make the picnic a success, no matter what the weather. Now if you could just hang mosquito netting from the roof line you'd be set here in NC.
See the sheltered picnic table plans >>
2) Overachievers: Hexagonal, Octagonal Picnic Table Plans
For some people the classic picnic table isn't enough to show off their woodworking prowess. That's why someone invented the hexagonal picnic table. And then someone else promptly trumped that woodworker with the octagonal picnic bench. I'm still looking for the dodecahedron picnic table that you can climb up into to eat… Now THAT would be awesome.
How to Build an Outdoor Picnic Table – Hexagonal

Hexagonal (six sided) BBQ picnic table

3) Classic Picnic Table Plans
The classic picnic table – benches attached to table – you could almost build it with your eyes closed. There are lots of classic table plans out there, but only a few with AWESOME instructions and write ups. I floated those to the top and included pics. All the others I just linked out to. ENJOY.
Picnic Table Design 101 (an outstanding write up – offers theory of picnic table building)


For picnic table engineers: "The fundamental basis for the design of this table evolved out of the use of 45 degree mitre cuts. This factor, combined with the desire to have the outboard edge of the seat top and legs align on the same vertical plane gave us the width of the overall table and thus, the width of the table top."
How To Build A Wood Picnic Table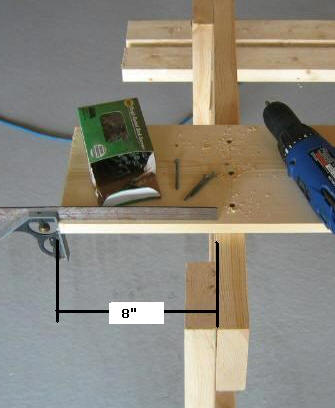 How to Build a Wooden Picnic Table (very precise with well organized list of parts required and cutting process)

Detailed plans for making a picnic table

Classic Picnic Table from The Woodworker's Journal (PDF)
The All-American Picnic Table
BBQ picnic table (in metric measurements)
Building a Picnic Table
PICNIC TABLE
Picnic Table Plans
Traditional Picnic Table
Garden Picnic Table
Picnic Table From DIY Network
PICNIC TABLE (PDF)
4) Benches Separate from the Table
Do you find that the classic picnic table's attached bench puts you a little too snug with the table? Would you like something that's a little easier to store away when you're not using it? Would you like more versatility from your picnic table? Can you think of any other questions I could preface this section with? Here they are in all their separated glory… the separatist picnic bench and table plans. Some are just benches. Some are just tables. Some are both.
A Round Picnic Table (unattached benches)
Canadian Pioneer Trestle Table PDF
Table and Benches Separate PDF
Build A Backyard Picnic Table (unattached benches in PDF)
Pedestal Picnic Table (pdf)

5) Picnic Tables For Kids
Your backyard parties will be much more successful with the kid table set away from the adult table… How else will the kids feel comfortable practicing those new swear words you accidentally taught them while building their picnic table ;P
DIY Kid's Picnic Setting (metric)
6) Wood Suitable for Picnic Tables
Ask 5 woodworkers and you'll get 25 different answers. And they'll all start with "it depends." Here are some quotes from forum threads discussing picnic table wood choices. Your mileage may vary.
From Cody Colston at Sawmill Creek
Cypress would be my choice. It's stronger than Cedar and doesn't dent quite as easily. I don't like the look of unpainted White Oak after it weathers. It doesn't hold up that well, either.
Ipe, Mahogany and Teak would all be good but expensive choices.
from Peter Quinn at Sawmill Creek:
I'd consider quarter sawn or rift sawn white oak, cumaru, ipe, black locust, cambara, genuine mahogany, eucalyptus, jarrah, or iroko as a short list of worthy candidates. Black walnut is also known to weather reasonably well, though it feels vaguely criminal to suggest it for a picnic table. Cypress might be a choice if you like the look of it, which I for one do not. Sealing all 6 sides of what ever wood you choose prior to installation will go a long way towards preserving your investment in time and lumber.
7) Finishing Your Picnic Table:
Finish For Pressure Treated Picnic Table?
from Johnnyapollo
"After construction, put it in the sun and move it around for maximum exposure (including letting it sit upside down for a week). The green will fade to more of a white color. As already stated – it needs to dry a bit, at least on the surface, to provide better absorption of any stains you use. Next find the stain – you can go dark but understand that constant weather and sun exposure will lighten it with age (so you'll need to reapply every few years) and apply like you would decking, using a pump sprayer. Try a sample piece (keep some cut offs) to see what stains work the best. A dark walnut will hide most of the green tint anyway – actually the dark walnut stain will probably fade into the greens as it ages."
What finish for cedar picnic table?
"Left unfinished, they will weather (outdoors) to a fine gray patina within a couple of years. You can enjoy the natural graying or protect them with a quality sealer when they reach the stage of weathering you prefer."
8) Picnic Table Videos:
traditional picnic table from BuildEazy – not very helpful, but may have good insights to the observant

Flash Movie of How to Make a Picnic Table
Build Your Own Picnic Table with Eric Stromer
9) Fun with Picnic Tables:
"cute" condiment picnic table
The Picnic Table Workout (this guy is serious… this is a book that costs $17)
sidekick driving on a picnic table: can your table withstand this punishment?

faceplant off of picnic table: can your face withstand this punishment?

I can't understand French, but laughter at the pain of others is a universal language.
10) My Picnic Table Plan Sources:
In addition to spending an hour poking around with Google (site searches on woodworking forums + variations on "picnic table plans") I relied heavily on the following picnic table plan sources. There are many dupes on each list, but enough uniques that they were worth sorting through for this list. They are in order of my opinion of their awesomeness.
Picnic Table Plans from the Woodworker's Workshop
Free Picnic Table Plans from FreeWW
Free picnic table plans from Instant Plans
Free Picnic Table Plans from WoodworkingPlansFree
11) More Free Woodworking Plan Goodness from ToolCrib
15 Free Toolbox Plans for Woodworkers
24 Free Sawhorse Plans in the Hunt for the Ultimate Sawhorse
ToolCrib.com's Ultimate Guide to Free Woodworking Workbench Plans
9 Sandpaper Storage Ideas (+ free plans)
ToolCrib.com's Ultimate Guide to Over 4,000 Free Woodworking Plans
ToolCrib.com's Ultimate Guide to Free Router Table Plans
ToolCrib.com's Ultimate Guide to the Crosscut Sled