If you happen to be a Star Wars geek AND a woodworker then the title of this post probably has you a little bit shaky. Let me begin by saying that the projects listed here DON'T have plans – they are mostly DIY projects I found while scouring the web. A couple are links to industrial-grade toy models made of wood… One link – to the flying x-wing – is only partly made of wood and will require far more tools than a table saw (and 4 solid-fuel rockets…).
All that said, if you're a true Star Wars geek then you are probably still a little bit shaky…
1) Wooden AT-AT
So let's start with the INCREDIBLE AT-AT I spotted over at WoodNet, by JeffLee67 in the thread If your kid is a Star Wars fan………… (lots of pics):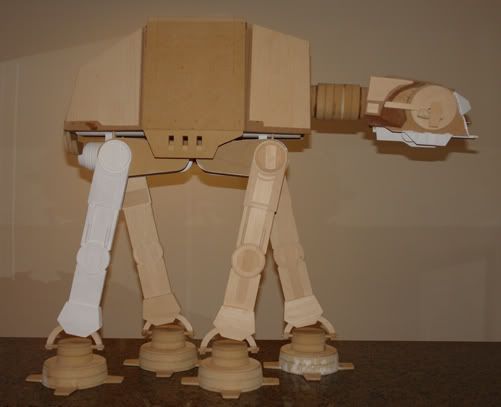 NICE! Here are some details:
"It is 34″ tall and 36″ long. The left side has a hinged door for him to put his Star Wars guys in. The head and neck are articulated and capable of moving. Nearly all construction is 1/2″ MDF because I wanted it to be stable and heavy and easy to paint."
Tools used: "no CNC, no Carvewright, no Shopbot. Just my tablesaw, a drill press, miter saw, and a whole lot of hand carving and sanding."
See all the pics and the whole story: If your kid is a Star Wars fan………… (lots of pics)

2) STAR WARS WOODEN SPACE SHIP
I found this one over on Instructables. It wins because I'm sure it will be super popular with the kids. It loses because it's not really a recognizable Star Wars ship. Plus the ships themselves would never say "Star Wars" on them because none of the characters knew they were in "Star Wars." But what am I griping about? I would have loved this as a kid.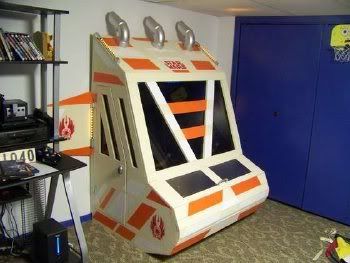 From the instructions: "1st take a sheet of 3/4 plywood and draw the side of the ship. make sure you will have enough plywood to flip it over and trace it for the other side of the ship. making the ship shape is just a little thought and imagination. or look on the Internet for ideas. mine is about 5 feet tall and 3 feet wide."
STAR WARS WOODEN SPACE SHIP >>
3) Wooden Sand Crawler
No plans from this builder – just awesome. Though the sand crawler isn't quite done we can see where he's going with it and see that it looks generally to scale with that toy Jawa. Bonus points for the replica Boba Fett blaster rifle. That thing is sweet!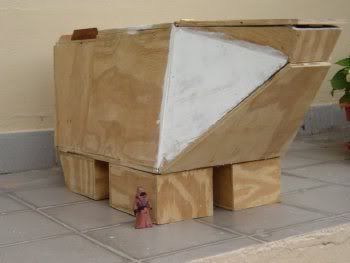 From the maker: "This are new pictures of the Sand Crawler I am working on, the mold was made out of cardboard, but the final product is coming out on wood, As soon as I finish it I will try to post the pictures here. Hope you like it. This is still wood, but now it is of a better quality."
4) Scroll Saw Pattern: Sebulba the Dug
I poked around folks, I swear – why is Sebulba the only Star Wars scroll sawing pattern I could find? Yeesh!

I found this blog post called Scrolling The Force that teased me with broken links to supposed scroll saw patterns on StarWars.com. The pic they link to is certainly promising but no dice…

5) Wooden Pattern for R2-D2 + X-Wing
If you're interested in how Kenner made prototypes for their action figures then check out these two links to descriptions of the wooden patterns they used. The pics are bad, but somehow the grainyness adds to the mystique.
From the site: "Much of the original artwork for the vintage Kenner toys was "patterned" from hard woods such as cherry or mahagony."
Wooden Pattern for X-Wing Fighter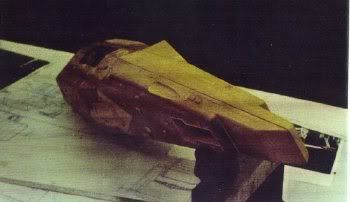 5) Rocket-Powered 21-Foot-Long X-Wing Model Actually Flies (Updated: Built-in R2-D2)
So… Ok. This one's SORT OF a stretch. But hey! Look at all the wood they used for the frame!
Here it is on a trailer: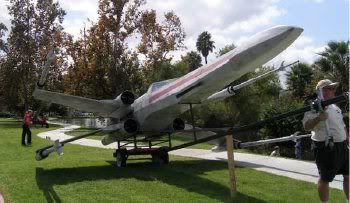 This is a fully functioning solid-fuel rocket. According to Gizmodo: "After drawing the plans using CAD software, Andy's team and his friends at Polecat Aerospace (with the help of RMS Laser and Aerotech Consumer Aerospace) used laser cutting to make the pieces out of Baltic Birch wood. They also used solid aluminum for some parts, like the rods which are the pivot point for the wings."
If you're geek enough, watch the tragic launch and disintegration of the X-Wing.

It cost around $5,000 to build.
Rocket-Powered 21-Foot-Long X-Wing Model Actually Flies (Updated: Built-in R2-D2)
6) Modern Walnut Coffee Table
The woodworker (DaytonB of LumberJocks) behind this creation says that the "legs are reminiscent of star wars space ship landing gear." I happen to agree, so I put it in with the rest of this collection.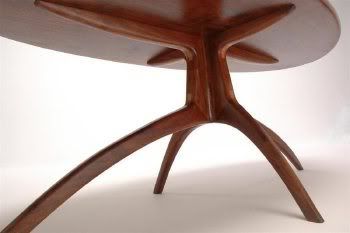 Good on you DaytonB. Er, I mean may the force be with you!
Bonus Star Wars Link:
Full Size Drivable Landspeeder and R2D2