Woodnetter Toscageoff introduced me to Michael Cooper in the thread "The best woodwork I have ever seen."
I started off getting "blown away" by this piece called "Tex" from 1976: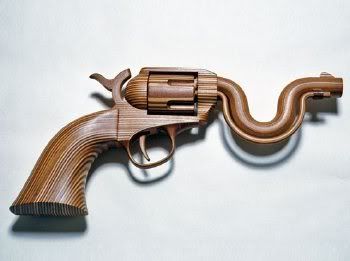 That's a bent wood barrel! HOLY COW. He has a whole gun series on his website: MichaelCooper.us. Some of his guns get a little, er, "manly" so may not be safe for work. His site's in flash so I can't direct link to any of it…
Here's some of his more recent work – and you can see he's come quite a way since his early days.
The Gunrunner's from 2007.
"For this exhibit Cooper spent over 4000 hours creating Gunrunner, a 10 foot long low riding vehicle made from over 1000 individual pieces of beautifully finished exotic hardwood including tires, chains, springs, nuts, bolts and valves, exhaust system, hoses and gears."
Learn more about this piece and Michael Cooper's exhibit at the Quicksilver Mine Co.
And here's one of his chairs, though I'm not sure I would last very long sitting in it…


This one's called Peaches and it's from 2005
See more pics of the Tubester >>
This one caused quite a stir in the hot rod community… here's a write up from WildRods.com >>
MIchael Cooper Resources:
Michael Cooper's Website
Formerly the Lodi Madman: Michael Cooper
Michael Cooper Split Personality 1982 (from Australian gallery)
Michael Cooper discussed on SMC
found this on the net
Too much time on their hands? (a "but is it art?" thread from SMC)
More Wood Sculpture and Wood Art Coverage:
Life-Size Wooden Sculpture of a VW Bus: Video + Pics (Lee Stoetzel)
Video: Wood Sculptures that Move (David C Roy)
All-Wooden Machine Made by 70 Year Old Woodworker named Del (Video)