Outside of workshop-oriented projects like workbenches and router tables, there's no simple project like the cutting board that attracts and challenges new and experienced woodworkers alike. With Christmas around the corner it's time to justify that garage full of woodworking tools with something BESIDES those dorky Star Wars projects of yours ;)
>> 4 Overachiever Cutting Board Designs That Blew My Mind
>> 3 End Grain Cutting Board Plans
>> 6 Laminated Long Grain Cutting Board Plans
>> 3 No Frills Cutting Boards
>> 4 Cutting Boards PLUS
>> Cutting Board Design Inspiration
>> 5 Video Guides to Building Your Own Cutting Boards
>> More Cutting Board Resources
>> More Free Woodworking Plans
>> 4 Overachiever Cutting Board Designs That Blew My Mind
Is it any coincidence that all of these are end grain cutting boards? Probably not – you can really show off your creativity and wood pairings with end grain cutting boards. These four designers – to put it simply – blew my mind. Three of the four I selected also provided detailed tutorials, though if you're just getting started in woodworking I'd look for something a bit simpler…
1) Construct these beautiful end grain Cutting boards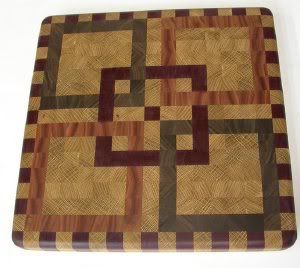 From LumberJock dewoodwork, whose cutting boards are the most beautiful I saw out of all the plans, guides and tutorials currently on the web. His tutorial rocks too, though I think this is one that the newbies might want to hold off on ;)
2) Video Game Themed Cutting Boards
Space Invaders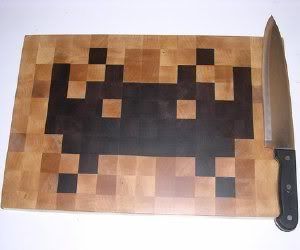 Also see – Legend of Zelda Triforce Cutting Board
No plans available for these, but they've made quite an impression on the Star Wars woodworking community ;) According to the creator's blog he works part time in his father's cabinet shop and spends the rest of his time… well it used to be playing video games but NOW he's cranking out these cutting boards for online retailers :D Here's his blog, 1337Motif >> where it appears he's working on Pac Man next…
3) Mike Schwing's Cutting Boards


Beautiful, innovative and creative. These cutting board designs and tutorials from Mike Schwing are incredible. Schwing put these together for the SawmillCreek.org woodworking community.
Cutting Boards Tutorial (Mike Sching)
4) Vaughn McMillan's Workingwoods 3D Cutting Board Tutorial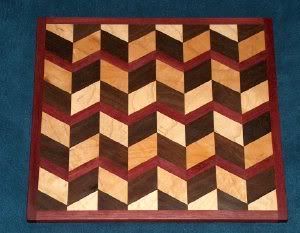 Gorgeous, huh? He's also made one based on a quilt square that is astounding too. Vaughn's a seasoned yet still friendly moderator over at FamilyWoodworking, a favorite woodworking forum of mine that started up as an alternative to SawmillCreek.org.
3-D Board Tutorial
>> 3 End Grain Cutting Board Plans
Since we started with mostly end grain cutting boards I thought I'd finish with them first rather than rushing into the laminated long grains… Enjoy!
5) Scrapwood and Endgrain Cutting Boards


While I don't think this one would be easy for newbies, I think it would be easier than those mentioned above. This simple, gorgeous design is accompanied by easy to follow photographs. It's great inspiration from Router Jim over there at Woodworkers Zone (another SMC spin off?)
End Grain Cutting Boards
6) End Grain Cutting Board Plans (pdf) by Ron Jones, via Marc Spagnuolo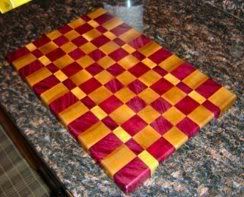 This design comes from the cutting board that Marc Spagnuolo made in Episode 7 "A Cut Above…" The plan itself is courtesy of Ron Jones.
7) How to Make End-Grain Cutting Boards
No pictures, just written advice. Solid though.
>> 6 Laminated Long Grain Cutting Board Plans
It looks to me like the laminated long grain (also called flat grain) cutting boards are a bit easier to make than the end grains, especially those above. Long grain cutting boards have a tendency to wear out more quickly than the end grain cutting boards, but they sure do look great. Here are some plans:
8) Small Maple Cutting Board


Simple, pretty cutting boards made of maple and cherry.
9) Make a Butcher Block Cutting Board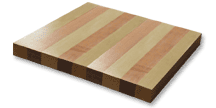 From the Lowe's site: "This is a great weekend project for a beginning woodworker."
10) Awesome Cutting Boards!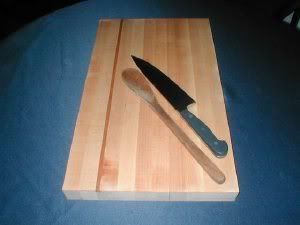 From Instructables: "how to make hardwood cutting boards out of maple and cherry scraps."
11) Cutting Board


Definitely not the best guide, but hey maybe you'll get something out of his description?
12) Lee's Wood Projects – How to Make a Cutting Board


Gorgeous, huh? Who said that the end grain cutting boards had all the fun? Another great guide from Lee.
13) Board stiff


This plan is for quite a behemoth of a cutting board…
>> 3 No Frills Cutting Boards
Mostly these use one piece of wood. These are great places for brand new woodworkers to start.
14) Hardwood Cutting Board – No Frills


Very simple. Good basic ideas and suggestions. From Chris Baylor.
15) How to Make a Mini Wood Cheese Board

16) Cutting Boards
Wood suggestions, basic instructions on the care of a cutting board. Decent instruction. A little weak on illustrations though.
>> 4 Cutting Boards PLUS
Rolling cutting boards, cutting boards designed to fit around your favorite bowl, cutting boards that defied my other categories… You'll find them all here!
17) How to Make and Treat a Cutting Board – Four Feet + Bowl Cut Out


Nice! This is one cutting board that aint goin nowhere. It's a solid piece that sports a cutout so that it's easy to move your choppings into a bowl with out a mess. Wow.
18) How to Make a Custom Cutting Board (fits inside your counter…)

19) Block and roll… Cutting Board on a Rolling Cart
I couldn't put it any better than they put it themselves: "a primo cutting surface atop a rolling cart – this portable unit increases kitchen productivity and jazzes up our humble cutting board!"

20) Vegetable Cutting Board (Designed to Fit With Favorite Bowl)
No pictures for this one… Decent description.
>>Cutting Board Design Inspiration
Browse through these galleries for inspiration (if you haven't gotten enough already).
Black Walnut and Oregon White Oak Cutting Board
Designs by John McLeod Ltd.
Cutting Board Gallery by Ken Goodwin
End Grain Cutting Boards
>> 5 Video Guides to Building Your Own Cutting Boards
If a picture's worth 1000 words then a video's worth 10,000. Here are some great how-to videos from YouTube.
The Wood Whisperer Cutting Board Tutorial Video – A Cut Above (Pt. 1)

The Wood Whisperer Cutting Board Tutorial Video – A Cut Above (Pt. 2)

Fine Woodworking Cutting Board Video How To

Woodworking 101 — Solid Wood Cutting Boards

WOODWORKING – Cutting Board Finishes
>> More Cutting Board Resources
Purchasing Cutting Boards, Types of Cutting Boards Seasoning, Sanitizing and Maintaining Cutting Boards
Free Cutting Board Plans
Free Cutting Board Plans
Free Cutting Board Plans
Cutting Board Warping – Question of the Week
Cutting Board Finish………Revisited
OLD for-pay Cutting Board Plans from Woodworkers Journal
>> More Free Woodworking Plans
15 Free Mobile Base Plans: Put Your Power Tools on Wheels
Wood Storage 101: 14 Lumber Storage Plans and 7 Storage Tips
32 Free Picnic Table Plans + Top 3 Most Awesome Picnic Table Plan Awards
15 Free Toolbox Plans for Woodworkers
24 Free Sawhorse Plans in the Hunt for the Ultimate Sawhorse
ToolCrib.com's Ultimate Guide to Free Woodworking Workbench Plans
9 Sandpaper Storage Ideas (+ free plans)
ToolCrib.com's Ultimate Guide to Free Router Table Plans
ToolCrib.com's Ultimate Guide to the Crosscut Sled