Like clamps and free lumber, storage is always scarce when you need it. These free storage plans will help you tame the clutter in your workshop and make you more productive, efficient, and smarter. Or, at least they will make you LOOK like you are ;)
Enjoy!
–> My 4 Favorite Shop Storage Plans
–> 2 Rolling Cabinet/Shop Cart Plans
–> 3 Tool Cabinets/Shelves Plans
–> 2 Storage Shelf Plans
–> 1 Under Stair Storage Plan
–> More Free Woodworking Plans
–> My 4 Favorite Shop Storage Plans
Mod Your File Cabinet for the Work Shop


"I started to work on a system of 1?4″ hardboard inserts for storing saw blades, router bits and sanding supplies-including discs and sheets-turning the cabinet into a very functional part of my shop." This one gets my reuse/recycle award – very clever way to reuse old file cabinets!
Small Shop Storage Solutions


"The keys to making big things in a little shop are organization, out-of-the-way storage, and nesting or collapsible work surfaces." CEILING DRAWERS? Niiiiiiiice… This link includes several plans for small shops, but I geeked hard over those ceiling drawers…
Corded Power Tool Shelf


"Besides providing storage, this tool shelf solves another nagging problem as well — it keeps the power cords from getting tangled up like spaghetti." Smart, simple, addresses common power tool storage problems. What more could you ask for… it's a free plan!
Rotating Corner Shelves


"This bin rotates on a pair of lazy Susan rings to maximize corner space and provide quick, easy access. A stationary upper shelf secured to the wall steadies the bin so it'll spin easily and won't tip over." I think this is one of those good ideas in pictures but kind of lame in practice… You tell me. I was won over by the idea though.
–> 2 Rolling Cabinet/Shop Cart Plans
Rolling shop cabinet


"At its core, this project is a simple plywood cabinet. I chose contrasting wood to add visual appeal. Walnut drawer fronts and edging for the top provide a nice dark contrast against the pale maple and birch of the rest of the cabinet. I also made my own maple drawer pulls to add a little flair."
Shop Cart/Table Saw Extension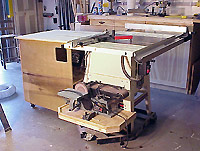 "I had been contemplating buying or building a table saw extension wing for some time and finally decided on making a simple cabinet on wheels. This cart is the result." No plans, just pics and descriptions.
–> 3 Tool Cabinets/Shelves Plans
Tool Cabinet/Shelves (PDF)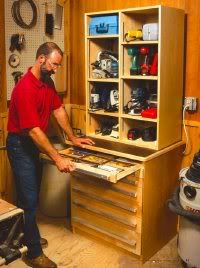 "Today's woodworker needs a different kind of storage space, geared toward power tools. Our tool chest is just the ticket."
Pegboard Storage Cabinet


Here's how to make a simple pegboard cabinet that can greatly increase your storage area.
–> 2 Storage Shelf Plans
Super-Size Cabinets


"With this 2×2 frame and panel system, you can add 80-plus cubic feet of storage in an afternoon"
Building a basement storage solution


"On going through the junk in my basement, I got annoyed at all the cardboard boxes in bad shape holding various parts and junk, and I figured I should build some wooden boxes to hold the stuff instead. Of course, if I build those boxes, I might as well make something to hold the boxes in an orderly fashion too. And hence this project."
–> 1 Under Stair Storage Plan
Under-Stair Storage Cabinets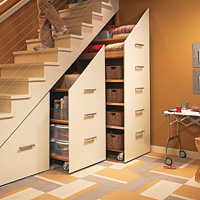 "The cabinets roll out for easy access to the items stored in them, and they add a finished look to the area when they're stowed away."
–> More Free Woodworking Plans
20 Free Cutting Board Plans + the 4 that Blew My Mind
15 Free Mobile Base Plans: Put Your Power Tools on Wheels
Wood Storage 101: 14 Lumber Storage Plans and 7 Storage Tips
32 Free Picnic Table Plans + Top 3 Most Awesome Picnic Table Plan Awards
15 Free Toolbox Plans for Woodworkers
24 Free Sawhorse Plans in the Hunt for the Ultimate Sawhorse
ToolCrib.com's Ultimate Guide to Free Woodworking Workbench Plans
9 Sandpaper Storage Ideas (+ free plans)
ToolCrib.com's Ultimate Guide to Free Router Table Plans
ToolCrib.com's Ultimate Guide to the Crosscut Sled