Whether you're just dreaming it or you're ready to build it, the backyard workshop is the ultimate for every woodworker. Just ask the guys who have one ;) This collection of links to plans, articles, books, videos – all free – shows you a wide range of possibilities so you can mix and match ideas to build the workshop of your dreams.
Remember though: "Before you begin work, contact your local building codes office and find out about necessary permits or other requirements for this type of building."
What's in this Workshop Building Plan Collection
–> 4 Remarkable Workshop Ideas, Plans and Guides
–> 3 True "Workshop" Plans
–> 12 Sheds You Could Enlarge
–> 4 Shed Foundations and Floor Guides
–> 4 Shed Construction Videos
–> 8 Free Shed Plan Pages I Used to Compile This Page
–> 11 More Free Plan Collections
–> 4 Remarkable Workshop Ideas, Plans and Guides
1) The Pallet Shed – the Ultimate in Cheapskate Refinement
Insulated? It… could be. Big enough for your table saw and your router table and workbench and jointer and planer? Erm… maybe with a few engineering tweaks to the structure. Are there any actual plans? Nope – you'll have to wing it, just like everyone else who builds structures with pallets. Is it expensive? Not in terms of cash ;)
This in-construction picture is from a page with pictures of 7 different sheds and other structures built from pallets. See them here: Pallet Sheds >>
If you're seriously considering building with pallets then you don't need to take the cheapskate woodworker quiz ;)
2) GENERAL BARN AND UTILITY SHED PLANS (23 plans in PDF from the University of Tennessee)
When it comes to free plans it's tough to beat the guys at the University of Tennessee. I had a tough time finding plans that would really provide enough square footage for a SERIOUS woodworking shop. You will probably have to REDUCE THE SIZE of the plans on that list… (and take out some of the stalls ;).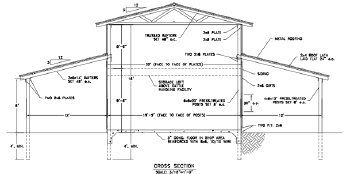 See all 23 General Barn and Utility Shed Plans from UT >>
3) Oak Lawn Vehicle Barn and Workshop
The Oak Lawn Four-Bay Car Barn… Loft? CHECK. 24′ x 28′? CHECK. Cars? H*** NO!!!

The Oak Lawn Four-Bay Car Barn >>
NOTE: This free plan requires that you give up your name and email…
4) Frank Pellow's Workshop
Frank Pellow started building his dream workshop two months after he retired in 2003. He's an active woodworking forum poster (now in FamilyWoodworking.org) and asked LOTS of questions about functionality and best practices. But best of all he wrote down every step he took, every idea he incorporated, and every design decision he made in a book and published it online.
Download The Story of a Woodworking Shop by Frank Pellow (188 pages in PDF) >> (very slow download… it's being hosted by a friend of Frank's, Mr. Stu Ablett who also posts at FamilyWoodworking)

3 True "Workshop" Plans
These plans come to you from the folks who provide the Oak Lawn Car Barn above. They are garages too, but sold on the site as workshop spaces as well, which they would work well for.
1) Garden Oak Garage and Work Shop


Here's a big, practical storage building that might be just what you need in your backyard. It's a two-car garage with plenty of extra space for storage or your use as a work or hobby shop. Add a wall between the spaces and use the shed-roof section as your office or studio.
2) Oakville Workshop Garage Plans


The 16′ wide garage is expanded by another 12′ for more storage or your use as a workshop. Or, add a wall between the spaces and use the shed-roof section as your office or studio.
3) Oak Lawn Garage and Workshop Plans


This building has three wide parking bays and another 12'x24′ space that you can use as a workshop, hobby shop, home office or studio, or just for extra storage space.
–> 12 Sheds You Could (Possibly?) Enlarge
There are a LOT of free shed plans out there, and I doubt how well these plans could serve anyone seriously looking to build a new workshop space. I include them because there are some interesting design ideas here, and hey, some folks may actually be looking to build a new garden shed ;) As a side note I cut a lot of the "me-too" shed plans that I found to focus on plans with better production, unique design ideas and nicer overall presentation.
1) Garden Storage Shed


The feeling of spaciousness inside belies the shed's 8- x 12-foot exterior dimensions. Straightforward lumber and plywood construction simplifies the project.
2) Gabled Garden Shed


This storage shed will provide you with two things at once: attractive architectural lines to enhance your yard,and a practical 80-square-foot work and storage space for gardening and landscaping projects.
3) Build A Two-In-One Shed


It's really two sheds in one: a 10 x 12-ft. toolshed for general storage and an 8 x 10-ft. open-bay extension that's ideal for keeping firewood stacked and dry.
4) Basic Shed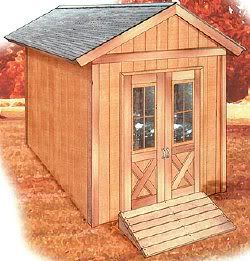 This 8 × 12-ft. shed features a simple gable roof, double doors, and side and rear windows for natural lighting. With full-height walls and doors, there's ample room for storing large items or creating a comfortable work space.
5) Garden Shed Addition


We designed this attached 7-1/2 x 13-ft. cedar shed to meet all your storage needs. It has a wide, no-sag sliding door on one end for big stuff like the lawn mower, and a separate section on the opposite end with lots of shelves for the small stuff, like pots and gardening supplies. The inexpensive barn sash windows allow plenty of light and ventilation.
6) Board-and-batten Shed


This sturdy shed is constructed of 100×50 (2×4) framing and board-and-batten siding. The same boards that clad the walls are also used to clad the roof. The structure sits on skids, thus making the shed relocatable.
7) Building a Drive-Thru Backyard Shed


A "mini" pole-barn. Pole construction is one of the most economical methods of building construction, and it's also relatively easy.
8) Build A Colonial-Style Storage Shed


At 10 x 16 ft., this handsome garden shed is large enough for most backyard needs. We've added an interior partition so it serves double duty as a storage shed and an all-weather children's playroom.
9) Build This Potting Shed


Before you build, lay onto the ground the tools, equipment and storage you'll actually include in the shed. Include additional work space for yourself and a second person. The space between a shelf and sidewall should measure about the width of your outstretched arms
10) SUPER SHED: JULY 2001


The straightforward design is easy to expand—up to about 8 x 12 ft.—to suit your storage needs.
11) Building a shed


By following the proposed plan, you will be able to build your shed without too much difficulty and benefit from the multiple advantages that a shed offers, for many years.
12) Build Your Own Garden Shed From PM Plans


We had in mind a basic 9 x 13-ft. shed built with decent materials and conventional framing methods.
–> Shed Foundations and Floors
You will probably want to stick to concrete floors in your workshop. In fact, you might even want to build in a heated concrete floor (see Workshop Climate Control: Insulating, Heating and Cooling Your Woodshop).
1) How-to: Build a shed base
This How-To guide explains how to prepare a suitable base, including how to make formwork and how to prepare and lay concrete. Here's an overview of what this How-to covers:
* Selecting the site
* Preparing the site
* Preparing concrete
* Laying concrete
2) Shed Floor Framing


Floor frames for sheds are simple versions of house floor frames. They have outside, or rim, joists that are set on edge and nailed to the ends of the common joists.
3) Installing a skid foundation


The fastest way to lay a skid foundation for your shed is to set 4×6 or larger timbers on patio pavers that are set in a gravel bed.
4) Laying out a shed
Laying out a shed is the first part of building a shed, but before that, you need to plan. Does your municipality require you to set the shed back from the property line? Does it require a building permit? Is your site easy to access? Does it use space wisely? Think it through. Once your shed is up, you won't want to move it by even a few inches.
–> How to Shed Construction Videos
Some of these are here more for fun than anything. Still, I believe that the crafty woodworker can get some value out of analyzing techniques, tactics and ideas in these videos. Except for the Two Ronnies of course ;)
Build a Shed from Recycled Materials

The Two Ronnies – How To Build A Garden Shed (1973)

Video: How to Build a Backyard Shed
Learn how to assemble and install a greenhouse shed; watch a video demonstrating each step; includes printable assembly/ installation instructions.
Building the garage and workshop

Diary Index – a written account from this video
–> Free Shed Plan Pages I Used to Compile This Page
Free Shed Plans from FreeWW
Free Workshop Plans
Free Shed Plans and Shed Projects
Free Shed Plans
How To Build a Storage Shed / Garden Shed
Building Sheds and Outbuildings
Workshop Plans – Shop Rebuild, Shop Elevations, and more
Shed Plans
–> 11 More Free Plan Collections
Yep, there are more free plan collections just like this one. Enjoy!
12 Free Workshop Storage Plans: Tool Cabinets, Rolling Carts, Under Stair Storage and More
20 Free Cutting Board Plans + the 4 that Blew My Mind
15 Free Mobile Base Plans: Put Your Power Tools on Wheels
Wood Storage 101: 14 Lumber Storage Plans and 7 Storage Tips
32 Free Picnic Table Plans + Top 3 Most Awesome Picnic Table Plan Awards
15 Free Toolbox Plans for Woodworkers
24 Free Sawhorse Plans in the Hunt for the Ultimate Sawhorse
ToolCrib.com's Ultimate Guide to Free Woodworking Workbench Plans
9 Sandpaper Storage Ideas (+ free plans)
ToolCrib.com's Ultimate Guide to Free Router Table Plans
ToolCrib.com's Ultimate Guide to the Crosscut Sled