UPDATE (4-15-09): Nail Jack Purchase of Vise-Grip Plant Falls Through Our hearts and prayers go out to the people of DeWitt.
Nail Jack Tools – an American nail-pulling tool manufacturer – has reportedly entered into an agreement to purchase the Vise-Grip factory in DeWitt, Nebraska, according to a recent announcement made on the factory floor. The Vise-Grip factory, currently owned by Irwin Tools, a division of Newell Rubbermaid, went up for sale in early September, 2008 when the owners finalized plans to move all Vise-Grip manufacturing to China. News of the factory's closing attracted national attention, along with condolences from national figures like Paul Harvey and President-Elect Barack Obama. At least some of the 330 workers from DeWitt may simply be changing employers rather than losing their jobs, which would be good news for a manufacturing facility located in a small Nebraska village of only 560 people.
But who exactly is Nail Jack Tools, the company reportedly in talks to buy the Vise-Grip factory? Google knows all – here's what I found…

>>Meet the Nail Jack Nail Puller
The Nail Jack and Nail Hunter tools are currently being pre-sold online at the Nail Jack website, though with a 4-6 week wait for delivery. Their site says the tools will be commercially available in early 2009. The design seems to be based on a built in fulcrum; it marries a hammer's claw to the pliers' jaws, resulting in "the most effective, efficient nail puller on earth." One thing's for sure – with the "green movement" in full swing and the economy in a recession, a tool that easily removes fasteners from reusable lumber is a timely necessity.
Video: How the Nail Jack Works:

According to his blog, the CEO of the company, Michael Foley, spent several years perfecting the patents around his tools, then started up prototype work, and then production. Calls to Foley were not returned at press time, but I will be following up with this story and will keep you posted. If the story IS true, can Nail Jack Tools continue the Vise-Grip American manufacturing legacy that began almost 90 years ago in DeWitt, Nebraska?
>>Building on the Vise-Grip Legacy in DeWitt
The Vise-Grip is an iconic American tool, part of the fabric of our tool-using culture. Vise-Grip began in 1921 when Danish immigrant William Petersen patented the locking pliers he invented in his Nebraska blacksmith shop. For many years he sold his Vise-Grips out of the trunk of his car to local mechanics and farmers. Demand grew despite the economic pressures of The Great Depression. In 1938 Petersen opened the first official manufacturing plant in downtown DeWitt, Nebraska with a staff of 37.
Vise-Grip Factory in the Early Days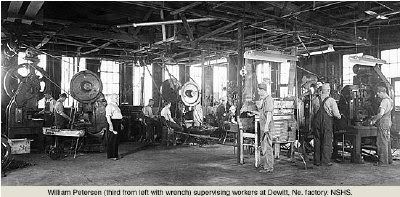 (picture from a history of the Vise-Grip)
Petersen continued to innovate and America accepted the Vise-Grip into its collective toolbox. The small town of DeWitt Nebraska grew with Vise-Grip, growing infrastructure, schools, and community based on the tool's success. Today there are few people in DeWitt who don't work for the now-vacant Vise-Grip factory. I think Nail Jack Tools recognized the tool-manufacturing knowledge contained in the DeWitt community, as an invaluable resource.
No matter who gets the Vise-Grip factory, they'll have a rough road ahead. A company like Nail Jack is well positioned to use DeWitt's 71 years of American tool manufacturing know-how to meet the untapped demand for a simple, low-cost nail pulling tool.
>>Can the Nail Jack Pull the Nails Out of American Manufacturing's Coffin?
Nail Jack's apparent decision to manufacture their nail pulling tools in the US is part of a growing trend called "reverse globalization." Increased shipping costs, increasing foreign labor costs, the desire to reduce carbon footprints and disjointed, unreliable supply chains all contribute to this trend. American companies like Nail Jack, Regal Ware, Thomasville Furniture and Exxel Outdoors are returning to prove to the US that manufacturing smart, innovative products at home can be more profitable – and beneficial to America – than manufacturing overseas.
Nail Jack Tools has its work cut out for it – the economy continues to decline, making consumers and tradespeople less likely to purchase a nail pulling tool that they already have less efficient solutions for. Still, the green demolition movement, the increasing demand for reclaimed lumber, profound nail pulling innovation and patent protection positions Nail Jack for rapid growth in the marketplace. Further, the innovation and ingenuity of the Nail Jack may make it – like the Vise-Grip – a hand tool that grows and succeeds even in the midst of an economic downturn.
>>Updates
I will add story updates as they emerge – stay tuned here for more news on Nail Jack's reported purchase of the historic Vise-Grip factory.
>>More Resources Related to this Story
Obama's Statement on Vise-Grip Plant Closing
"Workers at Neb. Vise-Grip plant told of closure"
"Vise-Grip employees ponder what's next for them"
A Brief History of the Vise-Grip
Could Globalization Be Going In Reverse?
Made (again) in America
Can the U.S. Bring Jobs Back from China?