We should have included free woodworking software on our list of the top 10 most dangerous power tools ;) The free woodworking design software out there – namely SketchUp (read about Sketchup and Woodworking in this forum if you want) – gives you way more power than you need for most simple projects.
You'll end up raising your blood pressure learning software to design a picture frame when you should be making sawdust. Luckily for your health we found 10 free woodworking software tools designed for highly specific projects. Enjoy and if you've used these or know of any other free programs please comment them below.
Note: Clicking some of the links below will make your computer begin downloading zip files that contain programs that you have to install. There's fair warning on each one.
>> Free Picnic (etc…) Table Design Software
Just in case our list of 32 picnic table plans didn't end your quest for the perfect picnic table, software designer David Eidsness provides the ultimate tool… Picnic Table Design Software. (See all of Eidsness' software here >>)

Picnic Table Design Software (Zip file for PC only) >>


"This Windows operating system software will produce detailed picnic table plans based on the users input. With a few mouse clicks, you can easily design a picnic table sized for babies, children, adults, extra tall persons, and wheel chair accessible. Other than square cuts, the software is programmed to use only two angles for ease of construction and aesthetics."
His picnic table software is also available from Downloads.com >>
Patio Table Software (Zip file for PC only) >>

XFrame Table and Bench Software (Zip file for PC only)

Coffee Table Calculator
Web based applications from Router Workshop, perhaps overly simple. Suitable for picnics in your living room…
>> Free Picture Frame Design Software
Frame Maker Ver. 1.5 >>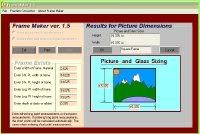 "It's a small picture frame or picture calculating program; which would come in handy for anyone building picture or other frames."
>> Free Sawhorse Design Software
So you're still on the hunt for the ultimate sawhorse plans? if you didn't find what you need from us then your only recourse is to download this software and get busy with your own designs.
Sawhorse Software (Zip file for PC only) >>

>> Free Small Barn and Shed Design Software
If you've been through our 23 free workshop and shed plans and you didn't find one that suits you, these programs from David Eidsness may be what you're looking for.
"Baby Barn" Design Software (Zip file for PC only) >>

Garden Shed Design Software (Zip file for PC only) >>

Gazebo Layout Calculator (web based) >>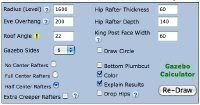 >> Free Cabinet Design Software
There are many cabinet design software applications out there. There are many free TRIALS available for cabinet design software. This is the only cabinet design software I found that was completely and totally free. Remember… you ALWAYS get what you pay for…
Easycab Pro Builder 7.0.0 >>



Cabinet design software woodworking software. Raised panel sides, backs, and drawers. Inland, base, uppers, calculates up to 50 cabinets at a time. Library viewer for quick selection of cabinets. Wood editor, build lists.
In case you're designing boxes/carcasses without all the fixtures, this web-based Box Calculator from Router Workshop should prove marginally more helpful than paper and pencil >>
>> Free Stair Design Calculator
Stair Calculator (web based) >>

>> Other Calculators and Software Useful for Project Woodworking
How To Calculate Board Feet for Your Woodworking Projects
2 Free Cutlist Programs that Minimize Scrap for Woodworkers
The Sagulator >> Calculate shelf sag (deflection) given type of shelf material, shelf load, load distribution, dimensions, and method of attachment.
The Wood Picker >> identify candidate woods for a woodworking project.
ShopMath Freeware Version >> "It allows the user to perform common geometrical calculations and unit conversions. The program also provides information on simple techniques to help in laying out geometrical forms. The intent of the program is to provide help to the woodworkers in solving mathematical and geometrical problems."
>> My Free Woodworking Software Sources
Woodbin's List of Free Woodworking Software (AWESOME) >>
Badger Pond Woodworking Downloads
>> Lists that Include Free Woodworking Software, and Many Paid
Woodweb's Woodworking Software List >>
Woodworking Software List from IWW >>
All Woodwork's Free and Demo Software List >>
Woodworker's Workshop Software List >>