Stu's an Australian woodworking blogger who writes and video tapes his experiences and lessons learned while working in his shed. He's also one of the few cheapskate woodworkers brave enough to take the quiz AND post his cheapskate badge ;D.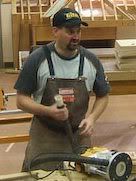 Pop a beer (don't set it on his table saw though), relax and enjoy your tour of Stu's Shed!

1) Tell my readers a little about yourself and your woodworking blog…
I am a non-professional woodworker in the SE of Melbourne, Australia, with my (non-woodworking) wife and young daughter (2 yr old). On the back of my place I have a typical Aussie shed (well, perhaps not so typical given the range of tools inside!).
The blog – an insatiable beast that I started because of photography, and not actually for woodworking – weird huh. I wanted to learn about podcasting, and particularly video, being influenced by the photo essays of the Magnum Photographers. I didn't have a photo essay to test with, but I did have a few videos that I had made documenting different aspects of woodworking that I had done for the Australian Woodworking Forums, so thought I'd test one of them, and thus the site began. I never got back to properly setting up the photo podcast – the woodworking one took off with such a roar, that I've not actually had time to think about the other!
The site is an extension of my woodworking – documenting what I do, what I am learning, and what I want to pass on. While the program was still running, I used to demonstrate Triton woodworking equipment on the occasional Saturday in various hardware stores (for a bit of fun and pocket money), and I run a number of woodworking short courses at a Tafe (Institute of Technology). I used to demonstrate (and was president for a while) of a Melbourne woodworking club. I'm currently looking at offering occasional demonstrations at a Men's Shed that is setting up locally.
It's all fun. If it wasn't, I'd do something else!
2) What are your top 3 most popular posts so far?
Hard to say – there have been some really significant articles that don't get high hits, but are some that I'm really pleased with how they read, and there are others that are just a throw-away comment that have massive hits. The really heavily trafficked pages are Stu's Shed TV, and the Review section:
Stu's Shed TV
Stu's Shed Reviews
Most popular posts (currently):
Workshop Layout Planning
The Amateur and the Artisan
3D Drawing Boards
3) How has the internet changed the way you work with wood?
Yes, and no. I learn a lot from books (perhaps more-so), but I am influenced to try out more things because of what I see online. The global village of the internet means I am exposed to, and influenced by so many more woodworkers than I would ever have discovered otherwise. My site encourages me to try new things too – pushing the boundaries of my knowledge and skills.
4) Do you have a favorite woodworking forum? What is it and why?
The Australian Woodworking Forums – they are local (although the community is global), but still with a definite Aussie feel – laid back, casual, skilled. (http://www.woodworkforums.ubeaut.com.au/)
I was invited, and have been a moderator on those forums for about 6 years now, and have over 5000 posts, although the blog is taking so much time, I am a very occasional visitor these days.
5) Who are some good, under-rated woodworking bloggers that we don't hear much about?
Bit embarrassed to say, but I don't have time to keep up with many other blogs, partly for time, partly because I don't want to take ideas from elsewhere and simply rehash them as my own. Although that is exactly what happened with a recent post by Gary Rogowski, but it really resonated with me so I chose to do so anyway. The journey is very much my own.
6) What are your upcoming shop upgrades?
Just finished upgrading the dust system, so some refinements will still be required, and more power (electrical) is becoming quite desperate. Better storage is probably the next major upgrade, and some more benches for the benchtop power tools (sanders, sharpeners etc) I have a vent to add to the roof (try to get some of the heat out)
I don't think the shed is ever finished – there are always more refinements needed!
7) What tools do you wish you'd found sooner?
Not so much found sooner, but wish I could have afforded sooner! My new tablesaw, the cast iron router table I am currently building, and hand tools – the woodworking journey is so much more important than the finished products.
8) What power tool is the most overrated and/or over hyped?
Not having owned, or even used one to be able to say if it is overrated/hyped, but the Festool Dominio has a fanatical following. I'd love one :) Think the one thing that definitely fits here is lasers. Lasers added to everything! In some cases they are a god-send, and I'm not referring to those applications. However, when you start adding lasers to bandsaws, jigsaws, scrollsaws then you are just being stupid, and it is everything about marketing, and nothing about good practice.
Oh, and any tool that looks like it should be wielded by a Cylon in Battlestar Galactica. Not meaning to pick on any particular brand, but guys – it is a TOOL, not a fashion accessory.
9) If you could only have 5 tools for all your woodworking for one year what would they be?
dovetail saw
HNT Gordon smoothing plane
good set of chisels
Colen Clenton Square
Chris Vesper Marking Knife
Hope that would be enough to really get to the roots of woodworking again. (And if I could add one more, the Triton Superjaws so I could clamp the pieces as I work!)
10) Which woodworker has had the most influence on your woodworking?
Probably my Father and Uncle – Dad who made stuff as we needed it, and my Uncle who made some amazing furniture, and my brother and I a marionette puppet each when I was 9.
Of woodworkers 'out there', I'd say that watching and reading DVDs and books by Mark Duginske certainly influenced how I thought of woodworkers, and the ability to take raw stock through to a finished product, rather than relying on commercially produced boards etc.