Festool lovers weep while Festool haters laugh and wink at their perfectly respectable collection of power tools. Why? Festool announced a price increase starting on February 1st, 2009.
We plugged the Festool price increase list supplied by McFeely's into good old Microsoft Excel so we could get a feel for what's going on with their prices.
(And just so Festool doesn't feel like we're picking on them, here's our article on Grizzly's coming price increase >>)

Overall Changes in Festool Pricing
Festool products will increase in price in total by $6339.99. At least for the Festool tools and products sold by McFeelys.
If you bought every item in the catalog today (without shipping) you'd pay $136,312.50.
After February 1st, 2009 you'll pay $142,652.49.
That looks like a 4.7% increase overall if my arithmetic's working right.
Largest dollar amount increase: $100.20
For the 7″ Sander LEX2 185/7 package A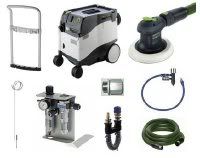 Percentage increase: 8%
Old Price: $1248.50
New Price: $1348.70
Largest percentage increase: 35.7%
For the 30 mm high, 5 per pack Coarse Polishing Sponges


dollar increase: $15.00
old price: $42.00
new price: $57.00
Largest price drop: 55.1%
For the Abrasives, 115mm x 228mm Titan2 P180 Grit, 100 Pack
Price drop: $21.50
Festool Price Increase Discussion:
From Festool price increase In LumberJocks >>
"The prices are unnecessarily high. They know that their clientele is the type that is not a professional and thinks that expensive equals better. Several people have mentioned that their tools are very nice. In some cases, this is a fair judgment. That said, take a quick look through a Festool owners group and you'll see all the problems that people are having. Many of their tools are having problems performing basic functions that a harbor freight tool would have no issue performing."
Mike Kunkel
alternately:
"I certainly don't think having Festool is going to make me a better woodworker. But the convenience and safety features of Festool make my woodworking experience more enjoyable. So to me, the cost is worth it."
From Festool Owner's Group Festool Price Increase >>
"If you don't think their products are worth the additional cost, you have two options as far as I can see.
1 – Buy those items you are considering before the increase goes into effect (which I just did). Bob Marino just sold another Domino system to this Kalamazoo business owner."
"2 – Send a message to FESTOOL corporate by not spending your hard earned dollars on their overpriced merchandise."
KCW
From Festool Price Increase T55 now same as Tracksaw in WoodNet>>
"guess they didn't like dewalt being higher then they were"
guyk
More Festool Coverage by ToolCrib.com
Best of the Fest: The Top 5 Festool Tools
Festool has figured in some previous articles on the ToolCrib blog. Here's how they did:
Festool placed 2nd in Top 5 Most Popular Random Orbit Sanders.
Festool placed 3rd in The 11 Top Woodworking Power Tools That Give 100% Satisfaction or Better
Festool placed 5th in Top 5 Woodworking Tool Companies with the Best Customer Service
Festool placed 7th in The Battle of the Power Tool Brands TOP TEN