Self reliance in woodworking means you don't have to call your spouse or kids to hold those long, dangly boards as they come off your table saw. This collection of 15 free table saw out feed plans puts YOU in CONTROL of your sheet goods and extra long ripping projects (like the guy ripping kayak strips in the video WAY down at the bottom).
>> 5 Mobile/Folding Outfeed Table Plans
>> 4 Stationary Saw Outfeed Table Plans
>> 3 Outfeed Plans for Benchtops and Contractor Table Saws
>> 3 Outfeed Stand Plans
>> 4 Outfeed Table Videos
>> Outfeed Table Resources
>> More Free Plan Collections from ToolCrib.com

Check out our woodworking e-newsletter archive and then sign up for the twice a month ToolCrib.com newsletter for free plans, tool reviews and more! >>
>>5 Mobile/Folding Outfeed Table Plans
Wow! Two great tastes that seem to go great together: Mobile Bases and Outfeed Tables!
Jim Becker's Folding Outfeed Table System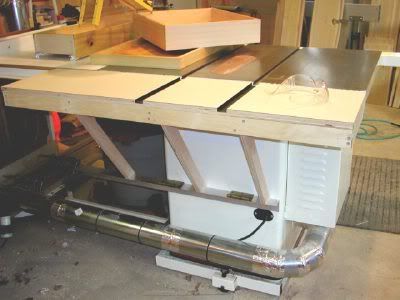 "Key to my design would be the ability to fold the majority of the table down when not in use to conserve space while adding about 12″ of permanent table area behind the blade. Since my saw is on a mobile stand, the unit could not touch the floor when folded."
Jim Becker of SawmillCreek.org
HOW TO – outfeed table, mobile


"I have all my tools on mobile bases and as such I wanted an outfeed table that was also mobile. I have a Unisaw with a 52″ Biesemeyer fence. I also wanted it to be large (48 inches by 48 inches), and this created a problem in that a simple fold down table would be too long to fold down in back of the saw. Thus I needed an outfeed table that could be removed very quickly and folded up flat so as to be stored easily."
The Folding Outfeed Table for Unisaw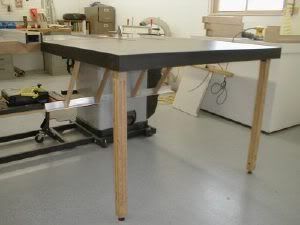 "While working on my router table I discovered that I was in desperate need for a more permanent outfeed table for my Unisaw. Cutting sheet goods by myself is already enough of a challenge without having to worry about pieces falling off the end of the table saw as the pieces are cut."
Folding Downdraft Outfeed Table for Unisaw


"This is an outfeed table that I made for my Unisaw. I'm really happy with the way that it came out. Even though it's shop furniture, I used half blind dovetail joints and tapered legs in an effort to gain some more experience with fine furniture techniques. As far as I know it's the only folding downdraft-outfeed-table on the web."
Projects: Unisaw Outfeed Table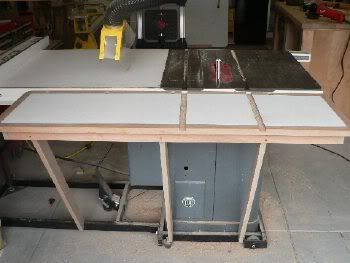 "I built this folding, modular outfeed table to support multiple types of work on my unisaw. When fully set up, the table measures 51″ wide by 48″ deep, with the depth greatly extendable using portable stands for the outermost third section."
>>4 Stationary Saw Outfeed Table Plans
Outfeed Table Plan from WoodWeb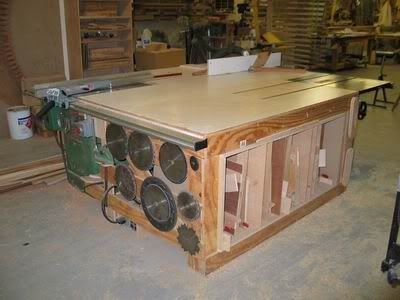 "I need to build a new outfeed table with a spot for a router mounted underneath. Does anyone have plans, designs, or good ideas for a new table? We currently keep sheet goods under the one we have now. Size is to be at least 5'x12′." Construction ideas for an outfeed table with mounted router. no actual plans, good pics and good points for consideration
Build an Outfeed Table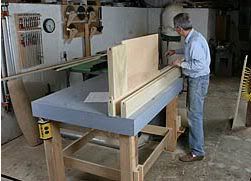 This support for long stock also makes a great working surface
Tony B Outfeed Table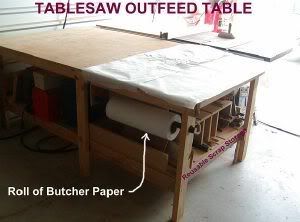 "Its plain and simple. I stand on it, jump on it and assemble cabinets and furniture on it. I even use my brad nailer and nail stuff to the top of it." Not a plan, but good pics from Tony B + others at Woodworking Talk
Must-have Rip-and-flip Tablesaw Outfeed Table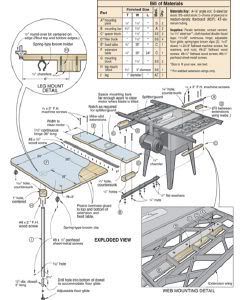 "This fixture attaches to any stationary tablesaw, regardless of the style or material of your saw's extension wings. We built ours to fit a Ridgid TS2424 tablesaw with webbed, cast-iron extension wings. But we'll also show you how to mount the outfeed table to solid castiron, stamped-steel, and shop-built wooden tables."
>>3 Outfeed Plans for Benchtops and Contractor Table Saws
David Thiel Versatile Outfeed Table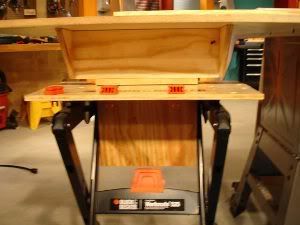 "The adjustable outfeed table (figure A) mounts on a portable workbench. Place the table next to your table saw to support long boards while you're working. Be sure the outfeed table is set slightly lower than the table of the saw."
Combination Ripping and Crosscut Table for Benchtop Table Saws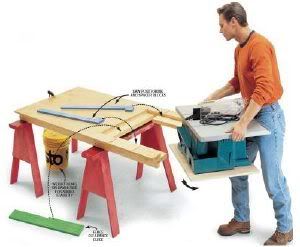 Table Saw Extension Table for Small Table Saws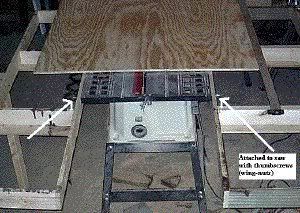 "Build these two saw table extensions that will allow you to rip those 4 x 8 panels on your small table saw."
>>3 Outfeed Stand Plans
Adjustable Outfeed Roller Attached to Roll Around Shop Cabinet


"I like to use outfeed support when working with long stock. The problem is the support is never in the place I need it. So I built an adjustable outfeed roller, like you see in the photo below, and attached it to a small, roll-around shop cabinet. "
Pivoting Outfeed Stand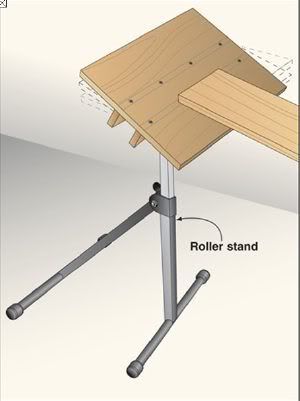 "…roller stands also have a frustrating flaw: If the material is warped or droopy, you'll probably knock over the stand before you get help from it. The tilting plywood platform, shown at right, virtually eliminates this problem."
A Simple Outfeed Jig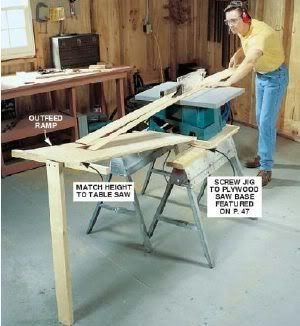 "A Simple Outfeed Jig Supports Those Long, Dangly Boards"
>> 4 Outfeed Table Videos
1) Tablesaw Outfeed Table

2) Extending Your Jointer A Bigger Badder Outfeed Table

3) How To Build an outfeed table for a table saw (The Wood Whisperer) >>
4) Ripping cedar strips for a homemade kayak (use of an outfeed stand)

Twin-Cut sawmill demonstation of lumber outfeed

Advertorial: Lee Jesberger's Ezee-Feed Infeed Outfeed System

also see: www.prowoodworkingtips.com
>> Outfeed Table Resources:
many outfeed tables here from Woodworkersworkshop.com >>
TS Outfeed Table
Outfeed table plans
forum discussion sources:
Outfeed Table PM 64
outfeed table miter slots
>> More Free Plan Collections from ToolCrib.com:
21 Free Cat Furniture Plans: Free Plans for Cat Trees, Condos, Scratching Posts and MORE
19 Free Jewelry Box Plans: Swing for the Fence with a Wooden Jewelry Chest!
The 38 Most Popular Free Woodworking Plans of 2008
31 Free 3D Puzzle Plans for Woodworkers: Burrs, Japanese Boxes, Tangrams and MORE
25 Fast, Easy and Free Woodworking Plans for Last Minute Christmas Gifts
Build Your Dream Workshop: 23 Free Workshop and Shed Plans
12 Free Workshop Storage Plans: Tool Cabinets, Rolling Carts, Under Stair Storage and More
20 Free Cutting Board Plans + the 4 that Blew My Mind
15 Free Mobile Base Plans: Put Your Power Tools on Wheels
Wood Storage 101: 14 Lumber Storage Plans and 7 Storage Tips
32 Free Picnic Table Plans + Top 3 Most Awesome Picnic Table Plan Awards
15 Free Toolbox Plans for Woodworkers
24 Free Sawhorse Plans in the Hunt for the Ultimate Sawhorse
ToolCrib.com's Ultimate Guide to Free Woodworking Workbench Plans
9 Sandpaper Storage Ideas (+ free plans)
ToolCrib.com's Ultimate Guide to Free Router Table Plans
ToolCrib.com's Ultimate Guide to the Crosscut Sled