Can you feel Valentine's day breathing down your neck? Is that special someone's birthday about to blind side you? Wait is it almost Christmas time already? YIKES!!!
This list of 19 free jewelry box plans will make you a BIG HIT with your family, friends and even your bros :D
>> 3 Grand Slam Plans: Jewelry Chests with Drawers
>> 3 Home Run Jewelry Box Plans
>> 5 Classic Jewelry Boxes
>> 2 Guy's Jewelry Boxes
>> 6 Quickie Jewelry Boxes
>> 11 Free Jewelry Box Videos
>> More Jewelry Box Plan Resources
>> Notable Jewelry Box Making Forum Threads
>> More Free Plan Collections from ToolCrib.com
>> 3 Grand Slam Plans: Jewelry Chests with Drawers
Maybe you've already made a "classic" or even a "home run" jewelry box in the past… You have a lot to live up to this year. Sometimes you have to go big – bigger than ever before. These 3 GRAND SLAM jewelry chest plans will keep the gratitude flowing ALL YEAR LONG.

Jewelry Chest


"When you first look at this jewelry chest, it's hard to know where to focus your attention…"
Tansu Jewelry Chest


"A tansu is a Japanese chest of drawers. They are traditionally constructed with hand tool techniques, but I have adapted my design to use router methods to speed up the process."
Oriental Jewelry Box of Drawers


"This "box" is really a structure of posts and rails joined with pinned or wedged mortises and tenons. All of the drawer sides are exposed within this structure, and the drawers are supported by it."
>> 3 Home Run Jewelry Box Plans
These jewelry box plans each have something a little extra to them… something that sets them apart from your classic and quickie jewelry box plans below. When the love of your life pitches you a gift giving opportunity make sure you hit a home run with one of these…
Oval Jewelry Box Pattern and Template


"The secret to a free-form project that doesn't have any straight lines is to use a router and a pair of templates."
The Keyed Corner Jewelry Box


"This particular box is made from highly figured woods using some unique construction techniques, including corners with keyed accents that give it a one-of-a-kind look."
Make a jewelry box


"If you need a last-minute gift idea and you have some beautiful small boards on hand, you have all you need to create this box. Its simple design won't take long to build, but it's attractive thanks to the appearance of the wood itself."
>> 5 Classic Jewelry Boxes
You can't go wrong with the classics. Each and every one of these is guaranteed to bring a tear to the love of your life's eye… (even if that tear comes after she opens it up and sees it's empty ;).
How to Build a Wooden Jewelry Box


"This beautiful hand-crafted jewelry box is designed to provide ample space to accommodate her favorite necklaces, earrings, bracelets, rings, chains, and other keep sakes."
Jewelry Box Scroll Patterns


"Carved boxes always intrigue me. It's not what's inside — it's the small details and the craftsmanship that make them irresistible."
Jewelry Box


"While the malls are jammed with poor saps, I'll be in my shop blissfully building these boxes for everyone on my list."
Finger Joint Jewelry Box


"Here's a jewelry box with a bit of a twist, a shelf that rises with the lid. I designed the shelf and lid this way because a removable shelf seemed clumsy since you have to find somewhere to set it down."
>> 2 Guy's Jewelry Boxes
You'll notice that the designers who make plans for wooden boxes that sit on top of guy's dressers call them "storage chests" and "dresser valets." That's fine. We know what they really are, and there's no shame in guys having jewelry boxes… or in making them and giving them to each other. Bromance is a beautiful thing.
Build A Mahogany Storage Chest (Jewelry Box for Guys)


"Our mahogany chest of drawers is based on the type traditionally used by craftsmen to store precision tools. However, you don't need to own a micrometer to make good use of it. With its six felt-lined drawers and locking top compartment, it's the ideal place to store or display jewelry, collectibles, memorabilia and all those little things that never seem to find a home of their own."
Dresser valet


"Give the gift of organization. This timeless vanity valet is designed to contain the clutter and collections of a man's day-to-day life"
>> 6 Quickie Jewelry Boxes
You don't need to explain to us why you need a simple, quick woodworking gift idea. We completely understand. These six jewelry boxes still say "I love you" while not smothering that special someone in too much expectation of gratitude.
Bandsaw Boxes


"Bandsaw boxes are novel in their design, deceptively simple to build and make perfect jewelry, trinket or keepsake boxes."
How to Make a Jewelry Trinket Box


"This uniquely crafted trinket box is perfect for storing small jewelry, mementoes, or other valuable treasures."
Jewelry Box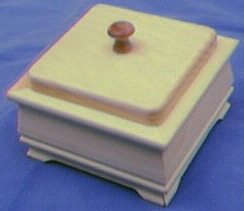 "This is a very simple project and ideal as a gift for Mom."
Jewelry Box


"Utilizing all straight cuts and simple joinery techniques, this jewelry box is a good project for beginners."
Use Box Joints to make this Music / Jewelry Box

>> 11 Free Jewelry Box Videos:
Woodworking 101 — Band Saw Jewelry Box

Routing a jewellery box with a pendulum jig

Build a Jewelry Box: Pt.1 – Making the curved sides

Build a Jewelry Box: Pt.2 – Making the monogram medallion
Build a Jewelry Box: Pt.3 – Lid and case assembly
Build a Jewelry Box: Pt.4 – The removable trays
Build a Jewelry Box: Pt.5 – Completing the trays
Build a Jewelry Box: Pt.6 – Assembly
Build a Jewelry Box: Pt.7 – Finishing and Completion
Temima Crafts – Bloomin' Clever Box (Band Sawn)

Video Inspiration from Don Phillips Woodworking

>> More Jewelry Box Plan Resources:
Free Jewelry Box Plans from FreeWW
Free Jewelry Box Plans from Woodworker's Workshop
Free Jewelry Box Plans from All Woodwork
Free Jewelry Box Plans from Woodworking Plan Finder
Paid Jewelry Box Plans from Woodworker's Journal
>> Notable Jewelry Box Making Forum Threads:
show me your jewelry box joinery
Jewelry "Box" for the wife (lots of pics!)
>> More Free Plan Collections from ToolCrib.com:
The 38 Most Popular Free Woodworking Plans of 2008
31 Free 3D Puzzle Plans for Woodworkers: Burrs, Japanese Boxes, Tangrams and MORE
25 Fast, Easy and Free Woodworking Plans for Last Minute Christmas Gifts
Build Your Dream Workshop: 23 Free Workshop and Shed Plans
12 Free Workshop Storage Plans: Tool Cabinets, Rolling Carts, Under Stair Storage and More
20 Free Cutting Board Plans + the 4 that Blew My Mind
15 Free Mobile Base Plans: Put Your Power Tools on Wheels
Wood Storage 101: 14 Lumber Storage Plans and 7 Storage Tips
32 Free Picnic Table Plans + Top 3 Most Awesome Picnic Table Plan Awards
15 Free Toolbox Plans for Woodworkers
24 Free Sawhorse Plans in the Hunt for the Ultimate Sawhorse
ToolCrib.com's Ultimate Guide to Free Woodworking Workbench Plans
9 Sandpaper Storage Ideas (+ free plans)
ToolCrib.com's Ultimate Guide to Free Router Table Plans
ToolCrib.com's Ultimate Guide to the Crosscut Sled