Have you SEEN THE PRICES for cat furniture at the pet store these days? WOW.
You could save yourself HUNDREDS of dollars by buying cat furniture at the store and NOT investing in the tools, materials and time it would take to build your own ;) I for one choose to go the DIY route and use those cat furniture prices as an excuse for more power tools :D
This free plan collection (see my others at the bottom) herds all the free cat furniture plans I could find into nice neat categories. Build a cat tree today because if your cat doesn't use it you can lure him up by putting your plants on it! Enjoy…
>> Cat Furniture Definitions: Cat Condos vs. Cat Trees vs. Cat Towers
>> 7 Free Cat Tree Plans
>> 6 Free Cat Condo Plans
>> 1 Free Cat Perch Plans
>> 4 Free Cat Scratching Post Plans
>> 3 Cat Furniture Plans with No Category
>> Cat Enclosure Resources
>> 2 Inspiring Cat Tree Videos

>> Cat Furniture Definitions: Cat Condos vs. Cat Trees vs. Cat Towers
So there's a rarely mentioned issue in the cat furniture world so I assume there must be some kind of taboo about it. Today I'm going to step on some toes and outline loose differences between Cat Condos, Cat Trees and Cat Condos. These are my own definitions.
Cat Condo – usually has more enclosures, typically more massive than a cat tree
Cat Tree – more perches, may have up to one small tube enclosure, not usually as massive as a condo
Cat Tower – I don't know. Really really tall? Enclosed, upright tubes? I really struggled with the "tower"
>> 7 Free Cat Tree Plans
Build your own cat tree


"Adapted from the Furr Angels! and Cats Haven web sites."
–DOH their site seems to have gone down completely… I'm leaving their link here in case they come back online (-G)
Build Your Own Cat Tree


"My cat loves to climb up and down the long posts, especially the one covered in burlap. If I Raichu jumping down from cat treewere to do this again, I would probably provide even longer posts."
DO-IT-YOURSELF CAT TREE FURNITURE BUILDING PLAN BLUEPRINT


"Build a four-perch cat tree measuring 2′ wide, 2′ deep, and 4′-6″ high."
How to Build a Cat Tree


"Learn how to build a cat tree; includes plans, step-by-step instructions along with tips, materials, and tools lists."
Multi-level Cat Condo (Actually a Tree, as enclosures are minimal)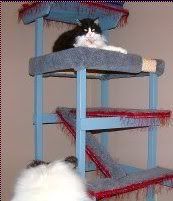 The Cat Ladder


"It's made from a four foot tall step ladder and used 500 feet of 1/4″ sisal rope. "
Home Made Cat Tower Cat Tree

Tool and Materials List >>
>> 6 Free Cat Condo Plans
Kitty Condo: Lathe-Induced Design Extravagance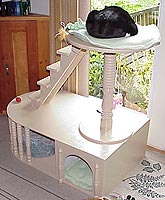 "What happens when you try to build what could have been a simple kitty condo in a shop with a new lathe?"
Building a Cat Tree (enclosures = condo… it's a condo I tell you! -G)


"I designed and built this three-legged, 4 level, 5 foot high cat tree in less than a day."
New Cat Tower (I say it's a condo)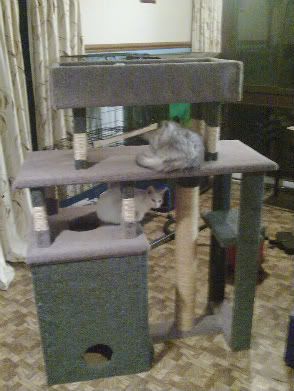 Making Your Own Cat Tree (CONDO)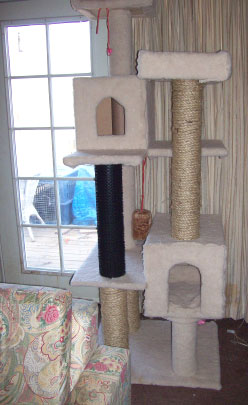 "I believe that my husband and I saved a great deal on making our own cat tree and we had a ball making it."
Cat Condo Plans by Bertus Greeff

>> 1 Free Cat Perch Plans
Cat Perch


"Cats love to look out windows. Follow these instructions to give your feline friend a carpeted seat."
>> 4 Free Cat Scratching Post Plans
Build a Scratching Post!


"I built this scratching post about 8 years ago, which gets used so much I've had to replace the carpet 4 or 5 times since."
Making a Sisal Wrapped Scratching Post


"This scratching post has been cat tested and approved by various felines."
DIY Scratching Post


"Our post is designed to take the place of a tree and can be whipped up in no time."
Cat Tower (so called by the creator – I say it's a scratching post)

Cardboard Cat Scratcher
Not furniture, but still useful for DIYers.
>> the "Extras:" 3 Plans with No Category
kitty ladder


"My cat is always wanting to get way up on top of the high cabinets in my apartment. So, why not build her a kitty ladder!"
Free Cathouse Building Plan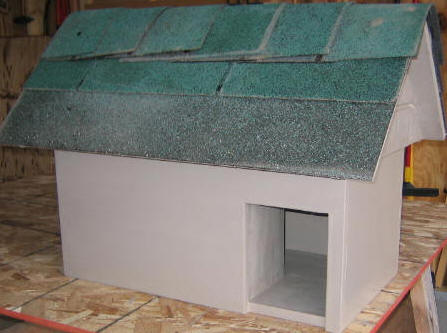 "Building a cat house is a project that can be fun and practical. This simple doghouse for cats can be customized to house a larger feline."
How to Build a Cat Play House (Gah, maybe this is a tower? never mind I'm putting it in the random section)


"This one is made out of easy-to-find materials from your local home or hardware store"
>> Cat Enclosure Plans and Resources
how to build a cat-proof fence and enclosure (PDF)
This is a phenomenally well produced free PDF, complete with sketches and guides for building your own cat enclosures.
SafeCat Outdoor Enclosures project pics
More cat enclosure galleries
more cat enclosure galleries
still more cat enclosure galleries
yes, even more cat enclosure galleries
Wow, still even more cat enclosure galleries
cat enclosure links
Do-It-Yourself Cat Fence
>> 2 Inspiring Cat Tree Videos
The Cat Tower (epic saga fought out on cat tower)

Refined Feline Lotus Cat Furniture

>> Free Cat Furniture Plan Resources:
Free Cat Furniture Plan Links from Cats of Australia
Free Cat Furniture Plan Links from FreeWW
Free Cat Furniture Plan Links from Woodworking Plan Finder
>> More Free Plan Collections from ToolCrib.com:
19 Free Jewelry Box Plans: Swing for the Fence with a Wooden Jewelry Chest!
The 38 Most Popular Free Woodworking Plans of 2008
31 Free 3D Puzzle Plans for Woodworkers: Burrs, Japanese Boxes, Tangrams and MORE
25 Fast, Easy and Free Woodworking Plans for Last Minute Christmas Gifts
Build Your Dream Workshop: 23 Free Workshop and Shed Plans
12 Free Workshop Storage Plans: Tool Cabinets, Rolling Carts, Under Stair Storage and More
20 Free Cutting Board Plans + the 4 that Blew My Mind
15 Free Mobile Base Plans: Put Your Power Tools on Wheels
Wood Storage 101: 14 Lumber Storage Plans and 7 Storage Tips
32 Free Picnic Table Plans + Top 3 Most Awesome Picnic Table Plan Awards
15 Free Toolbox Plans for Woodworkers
24 Free Sawhorse Plans in the Hunt for the Ultimate Sawhorse
ToolCrib.com's Ultimate Guide to Free Woodworking Workbench Plans
9 Sandpaper Storage Ideas (+ free plans)
ToolCrib.com's Ultimate Guide to Free Router Table Plans
ToolCrib.com's Ultimate Guide to the Crosscut Sled