UPDATE: the Ridgid R4511 has been RECALLED.
UPDATE 2: Now we're getting word that the r4511 has been discontinued…
The new Ridgid R4511 is not a secret – you can read all about it at Ridgid's site. However, it wasn't supposed to hit the Home Depot site until late February and it CERTAINLY wasn't supposed to get into woodworkers' shops before then. Well…. it DID.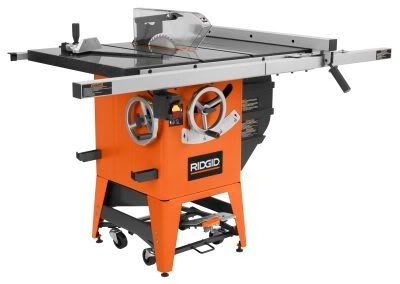 There are at least 2 photo-confirmed owners of the Ridgid R4511 at the time of this posting. So how did they get them, and how did such a purchase frenzy start around Ridgid's R4511? I'll try and answer those questions below.
I strongly expect to see this saw show up on our top 10 hybrid table saws when we revise this list later this year…
One last thing before we dive in, the majority of information for this came from a thread at RidgidForum.com: Ridgid R4511 availability?
Ridgid R4511 Unboxing Pictures
Official Ridgid R4511 Availability
Origin of the Ridgid R4511 Leak
Why Some People Already Have a Ridgid R4511
Why the Hype About the Ridgid R4511?
Speculations on TTI and Steel City Tools Licensing Agreement:
First Usage Report from Actual Ridgid R4511 Owners:
Initial Problems Noted with the Ridgid R4511
Forum Threads Discussing the Ridgid R4511

Ridgid R4511 Unboxing Pictures:


Here are all the R4511 unboxing pictures >> These are from Ashman, who posted them at RidgidForum.com.
Official Ridgid R4511 Availability:
I called Home Depot headquarters in Atlanta – the "release" date is mid to late February. There's word from a HD employee who posts at WoodNet that this is due to HD trying to sell through their Ridgid 3650/3660 saw stock first. Further confirmation comes from Dirtman in the RidgidForum: "the buyer that I talked to when I ordered mine [said] none of these saws will show up in their system until February."
For anyone who smells blood and is in a ravenous fit to put this saw in their workshop, here's the Home Depot SKU for the Ridgid R4511: #750663 (confirmed on purchase ticket).
Origin of the Ridgid R4511 Leak
Perhaps the original leak started from Woodworker's Journal: "I seen it in woodworkers Journal and the magazine says available at home depot in mid January!!!" bob405 (RidgidForum)
It's also reported in the RidgidForum that "the buying department and the inventory department had a mis-que and the information about this saw was never supposed to have hit the HD site until the end of February."
Why Some People Already Have a Ridgid R4511
Ashman from RidgidForum called Home Depot's headquarters (like I did) and found a contact there who made a direct special corporate order to Ridgid. This was then shipped to HD before the official release date. When I spoke with this individual she expressed regret that her name and phone number had been posted on the RidgidForum… (Ashman – is there anyway you could take her number down?) Though she was able to help at first, this "backdoor" has been shut as she had to have each sale this way approved by her boss.
She said she continues to receive 5-6 calls a day about this saw.
Why the Hype About the Ridgid R4511?
These are in descending order of hype inducement ;)
$599
Cabinet Mounted Trunions
Granite Top
Riving Knife
Highly-likely speculation that Steel City Tools contributed to the saw
$539 if you get a HD credit card when you buy it (10% off first purchase).
Decent Fence
Herc-U-Lift Mobile Base
4″ dust port
Left Tilt
Input: 120 V / 240 V AC, 13 / 6.7 A
Motor: 1 ½ HP TEFC™, Induction
Did I mention $599?
It is indeed a BIG DEAL if this saw's quality lives up to the hype – comparable hybrid table saws start $400 higher.
Speculations on TTI and Steel City Tools Licensing Agreement:
There's strong speculation that TTI, the holding company for Ridgid, licensed technology and know-how from Steel City Tools. Steel City Tools subsidiary Orion also created and licensed the technology to the Craftsman 22124, which is #1 in our top 10 Hybrid Table Saws list.
"The info about the [TTI and Steel City Tools] licensing agreement came from the mouth of Scott Box, owner of Steel City, and was spoken directly to the person I got the info from. He's a seasoned veteran of wwing, wwing machinery, and the wwing forums, and I definitely consider him a reliable source. Steel City is supposedly the only manufacturer with experience using granite as a machine top surface, and TTI licensed the technology to benefit from their knowledge."
hewood (RidgidForum)
I wrote to Steel City Tools for comment on these speculations. As of press time they had not replied.
First Usage Report from Actual Ridgid R4511 Owners:
"The vibration when running is minimal especially compared to my 30 year old Craftsman contractor saw. I ripped a piece of 3/4 oak and it cut very smooth and no effort."
Ashman
"I personally feel the fence system on this saw is fine!!! It moves smoothly and locks down nice and tight. It's also very easy to square it up to the blade. I'm adding faces to both sides of the fence and repositioning the measuring tapes (allthough they can only be used as a reference to get you in the ballpark because the kerf width won't be the same on the different blades you may use). I'm very pleased with the build quality of the saw. The blade raises, lowers, and tilts to 45 degree's very smoothly. I showed it to a couple of friends and they can't believe it only cost $600 bucks."
millman on 1-14-09
Assembly Reports on the Ridgid R4511:
These quotes are from Ashman and millman who posted to the RidgidForum in this 20 page (200 post) thread: Ridgid R4511 availability?
"I have the 4511 assembled except for final adjustments. It went pretty easy except I had to re-tap the threads for one of the studs holding the right side table extension. I will tell you to be sure to open the small plastic bag with the blade tools in it first. That bag has all of the hex wrenches you will need to assemble. I found that out near the end. The assembly directions and figures are fair. The plastic bags with parts are labeled figure A, B, C etc, but the figures in the directions are labeled 21, 22, etc.
"During assembly i found the blade to be out .010 in of being square with the miter slots. Just had to loosen the four bolts connecting the table top with the cabinet to adjust. (directions indicate that the four hex head bolts are located inside the cabinet but two of them are actually located outside the cabinet on the left side) A very slight adjustment was required on the 90 and 45 degree stops but again was easy to do."
"Yes it is a riving knife and travels up and down with the blade. It has a quick disconnect for easy removal once the throat plate is removed or through the side cover (two screws to be removed there but I am going to come up with a latch to make it easier. (I believe you can see the silver T shape release in one of the inside the cabinet photos) The granite table extensions line up very well and are easy to adjust. The Herculift works fine with the weight however just as with my old craftsman contractor saw I wish it lifted a little higher to make up for the uneven floor. The fence appears very similar to the Delta T2 without the faces. I will be adding some UMHW fence faces, not that you really need them but I want them. Just have to keep in mind that if you don't change the measuring tape on the rail you will be off the thickness of the face. The miter groove is a T slot."
Initial Problems Noted with the Ridgid R4511:
"The only issue so far with the saw is with the granite top. Its seems that when its cold (I'm in Michigan) and I turn on the heat in the garage the granite top tends to sweat more than my old cast iron causing the sawdust to stick to the top."
"..from what I could tell it takes longer to bring the 1- 1/4 in granite to room temperature than it does the hollow web designed cast iron and it sweat more. I am using a torpedo kerosene heater in the garage so it doesn't heat up equally thoughout the garage."
This is from Ashman on the RidgidForum. It sounds like pretty small potatoes, but one of the facts of life when it comes to using granite vs. iron.
Forum Threads Discussing the Ridgid R4511:
Ridgid R4511 availability? (Ridgid Forum)
new Ridgid hybrid TS (WoodNet)
New RIDGID "hybrid" saw??
New Ridgid Hybrid Saw – R4511
New ridgid saw with granite top
Rigid Granite top tablesaw?
Other Blog/Magazine Coverage:
Ridgid's New Granite Topped Table Saw R4511
Granite Tablesaw, Self-Shifting Drills Highlight New Tools From Ridgid and Ryobi