This post on wooden bikes got a little out of control… It started out as a "jaw dropper golly gee neato!" post when I spotted this golly-gee-neato wooden bike (it really is amazing by the way, and would be a challenge for the most proficient, skilled woodworker):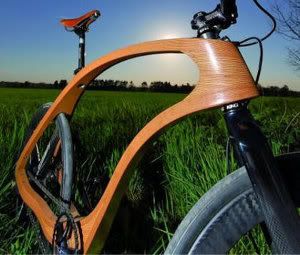 Then I wondered if any free wooden bike plans existed out there, and next thing I knew my quick, short post on wooden bikes turned into a monster ;) Here's what you'll find:
>> A High Speed History of Wooden Bikes
>> 10 Free Wooden Bike Plans + Build Notes/Pics
>> Wooden Bike Wheels + Add Ons + Etcetera
>> 2 Fee Wooden Bike Plans
>> 3 Wooden Bike Manufacturers
>> Wood Bike Pics + Design Inspiration
>> 3 Wooden Bike Videos
>> 21 More Free Woodworking Plan Collections from ToolCrib.com

>> A High Speed History of Wooden Bikes
Wooden bikes are old news. Early bike builders always used wood in their frames, if not the wheels and joints. Heck, early fighter plane builders used wood, though not in the frames – and it held up fine. Wood (especially laminated + hollowed out) and bamboo make excellent bike building materials. In some areas, wood remains the de facto bike building material.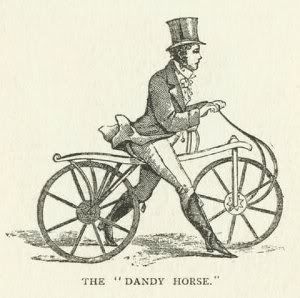 For the doubters and overly passionate woodbike fans, here's a rebuttal against using wood for bikes from someone who claims woodworking + biking experience. Though not a combination of the two yet I believe…
>> 10 Free Wooden Bike Plans + Build Notes/Pics
Initially I intended to have separate sections for free wooden bike plans and wooden bike build-walk-throughs with pictures. However, I only found one "traditional" free plan (pdf form, printable, ready to cut) for wooden bikes. Everything else was build notes and pictures, which in some ways are more useful. Some ways less. I hope this collection of links – many to recumbent or 'bents – inspires your wooden bike project! Also note, only one of these bikes is all wood.
The Dayton Fireball: A Wooden Coaster Bike for Kids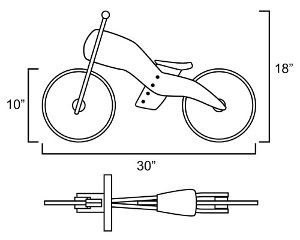 Dayton Fireball PDF >>
Wooden Walker Bike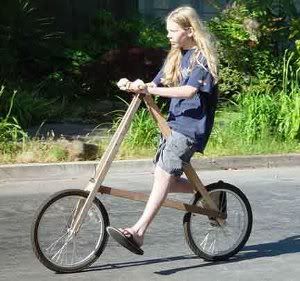 Same bike, different source: Wooden Bike Plans
WoodTrike Plans


WoodTrike Plans PDF >>
Cheap Short Wheelbase Wood Conversion Recumbent Bike: "The WidowMaker"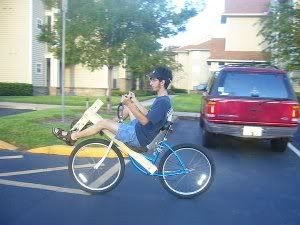 Making an All Wooden Bicycle – Build Notes from Lee Valley Newsletter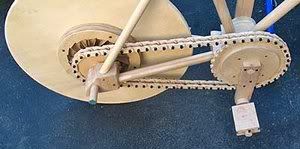 A funny response to this all wooden bike: I Am Not Impressed By Your Wooden Bike
The Mistress: Wooden + Carbon Fiber Frame Recumbent Bike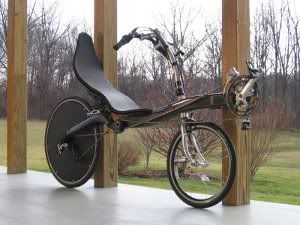 Wonderful writeup, incredible craftsmanship. Description from the creator: "This site describes how I built my own recumbent bicycle using plywood, carbon fiber sleeves, borrowed tools and a Foodsaver vacuum bagger."
Bike #1 Design: "Woody" (Build Notes + Pics of a Recumbent, Wooden Frame Bike)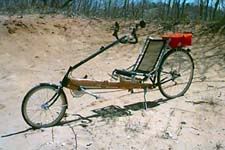 Drawing + Specs of Woody 1 >>
Driftwood Bike Build Notes and Pics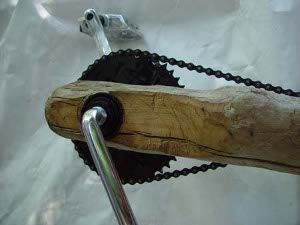 >> Wooden Bike Wheels + Add Ons + Etcetera
Wooden bike makers may find these other plans/descriptions useful.
Steps for Building Wooden Spoked Wheels
The pictures are dead here – doh! You will have to use your imagination + read the instructions.
WOOD BENDING Applied Mechanics in Wheel-Making "Hub" November 1878 >>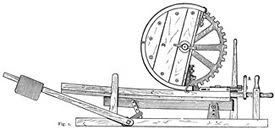 List of 1800s Articles in Book on Wooden Wheel Making >>
2 Fee Wooden Bike Plans
RECUMBENTS FROM 2X4 LUMBER Paid plans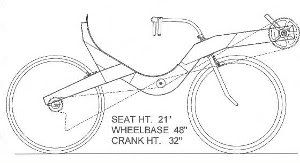 2 x 4 Lowracer build notes and pics
2 X 4 LOWRACER build notes
Autocanoe: Pedal Powered Amphibious Recumbent Tricycle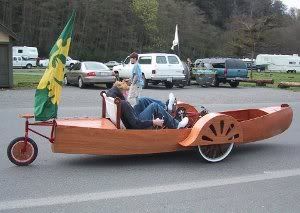 >> 3 Wooden Bike Manufacturers
Peter Hans Wooden Bike Frames for sale
Bamboo Mountain Bikes for sale
Renovo Hardwood Bicycles – The base price is $2300 including most woods, not including fork.
>> Wood Bike Pics + Design Inspiration:
Wooden Bikes – the master of wooden bikes, using CAD (cardboard assisted design)
Recumbent Share (not all wood, though all are hand made)
Wooden Bicycles links + Pics
Bicycles made out of wood
Custom Wood Bicycle – Woody
wooden bikes pics
Wooden Bikes – more historic/agrarian/utility wooden bikes
3D Cad design of wooden bike
WOODEN ART – article on wooden bikes
Wooden Bike Article
BAMBUCICLETAS – Bamboo Bike Article
Bent Ply Bike Sketches
more wooden bikes
>> 3 Wooden Bike Videos
homemade wooden frame recumbent bike

WR2 the Wood ReCYCLE Recumbent

Wood-Burning Mini Bike (for getting rid of your design mistakes ;)

>> 21 More Free Woodworking Plan Collections from ToolCrib.com
11 Free Miter Saw Stand Plans + 9 Pictorial Idea Guides, 2 Videos, 6 Paid Plans and MORE!
7 Table Saw Jointing Jig Plans: Straight Edge, No Jointer
13 Free Clamp Storage Plans: Space Savers, Mobile Clamp Carts, Pipe Clamp Racks and MORE!
15 Free Table Saw Outfeed Plans: Mobile Tables, Folding Tables, Outfeed Stands and More!
21 Free Cat Furniture Plans: Free Plans for Cat Trees, Condos, Scratching Posts and MORE
19 Free Jewelry Box Plans: Swing for the Fence with a Wooden Jewelry Chest!
The 38 Most Popular Free Woodworking Plans of 2008
31 Free 3D Puzzle Plans for Woodworkers: Burrs, Japanese Boxes, Tangrams and MORE
25 Fast, Easy and Free Woodworking Plans for Last Minute Christmas Gifts
Build Your Dream Workshop: 23 Free Workshop and Shed Plans
12 Free Workshop Storage Plans: Tool Cabinets, Rolling Carts, Under Stair Storage and More
20 Free Cutting Board Plans + the 4 that Blew My Mind
15 Free Mobile Base Plans: Put Your Power Tools on Wheels
Wood Storage 101: 14 Lumber Storage Plans and 7 Storage Tips
32 Free Picnic Table Plans + Top 3 Most Awesome Picnic Table Plan Awards
15 Free Toolbox Plans for Woodworkers
24 Free Sawhorse Plans in the Hunt for the Ultimate Sawhorse
ToolCrib.com's Ultimate Guide to Free Woodworking Workbench Plans
9 Sandpaper Storage Ideas (+ free plans)
ToolCrib.com's Ultimate Guide to Free Router Table Plans
ToolCrib.com's Ultimate Guide to the Crosscut Sled