From Woodnet comes this sad though touching story of a woodworker selling off his tools to make room for family displaced by layoff: OH well, goodbye woodshop.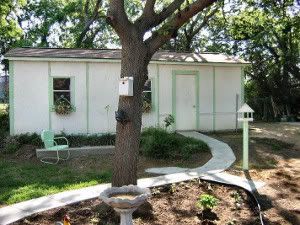 Woodworker and Woodnetter John Box reports that he's saving some of his tools in his shed and selling the rest to make room for family members who have recently lost their jobs. "…I was able to cram the table, band, scroll, lathe, spindle sander, joiner, and a couple of router tables in that little shed. What I can't in, I'll sell. I sold the shop fan and radial arm Saturday. I also found someone to give the old overhead door to. I gave up the door so I could frame in the north end of the building so it could be air-conditioned. That's sort of a must for sleeping down here."
I think Woodnetter "The Famous Grouse" puts it best: "You're putting your family at the top of the list, right where they should be and I commend you. You should be proud that you've done well for yourself and you're in a positing to help your family when they need it. You can buy tools, you can't buy family."
I read of at least 2 other mentions of adult children moving back home on that thread… I hope everyone in my reading audience is holding up well. Read about Mr. John Box's situation here: OH well, goodbye woodshop. Good luck to John and anyone else who's sacrificing for their families these days.
Articles on Budget Woodworking:
Woodshop Dust Collection on a Budget
Woodworking Through the Economic Crisis: 11 Resources for Stretching Your Woodworking Budget