Woodworking weirdos – you know who you are ;) You're sure to draw inspiration from these wacky, crazy and all-out awesome wooden creations. Everyone else, well, you'll at least enjoy that jaw-dropping sensation, even if none of these ideas find their way into your work. Also I have a feeling this compendium could grow… for now it's only 4 though :) I welcome any suggestions for inclusion in the comments below!
1) The Wooden Frog Table
2) The Squid Tentacle Table
3) Wooden Pocket Watches from Russia
4) Nude Wooden Lamp Sculpture
Enjoy!

1) The Wooden Frog Table
Frog. Table. Frog Table. Frooooooooog Table. No matter how I write it, it doesn't look right to me. This picture of work by Ms. Hella Jongerius is worth far more than 1000 words…
See 'hella jongerius – contemporary archetypes' at galerie kreo
Via Woodworking Extras
And do see Ms. Jongerius' Site >>
2) The Squid Tentacle Table
Korean designer Chul an Kwak seeks to create "furniture that takes-off from a point in space and time." I'm not sure where in space or time these take off from, but WOW. What's weird is how these look more natural than the frog tables ;)
via Tables with Tentacle
from chul an kwak at seoul design week 2007
3) Wooden Pocket Watches from Russia
I've written about wooden geared clocks before, but this is RIDICULOUS. Wooden pocket watches apparently appealed to Russian aristocrats in the 1800s. Now they appeal to modern aristocrats with $20k burning a hole in their pockets where their wooden watches will fall through ;)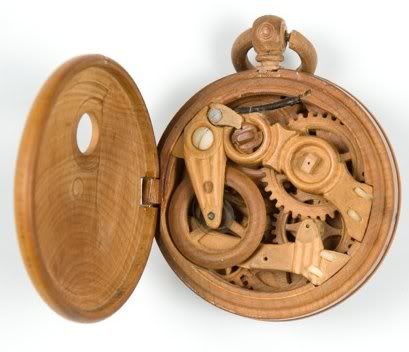 From Russian Wooden Gadgets
Via Woodworking Extras
4) Nude Wooden Lamp Sculpture
This is one of the more tasteful, sophisitcated selections from the work of Mario Philippona on display at "SexyFurniture.nl" Please note, from the sculpture description, that: "the lights are tiptronic controlled by touching the nipples." I would gently suggest you not visit this site while in respectible company or at work (and HEY. this work is "an expression of freedom, dance and movement" so stop that tittering ya school boy ;).
SexyFurniture.nl (Rather difficult to explain, even with an interest in woodworking, therefore NSFW)
More Woodworking Oddities from ToolCrib.com:
Video: Cabinet Maker Locks Self in Cabinet, Leaves it on Street as Prank
The iWood: for iPhone Haters and/or Woodworkers
Makita Ad Uses 20,081 Holes to Drill Message Home…
Dutch "Noah" Builds 1/2 Size Ark Replica – Free Plans Not Yet Available
Golf Course Tree Yields Golf Ball Burl
New Study Shows that Mens' Brains Equate Women in Bikinis and Power Tools
A Working Wooden Vespa by Portuguese "Carpintaria" Carlos Alberto
Table Made of 8 Contractors Levels and a Glass Top
Wooden Gear Clocks by Keith Chambers
Video: Wood Sculptures that Move
Life-Size Wooden Sculpture of a VW Bus: Video + Pics
All-Wooden Machine Made by 70 Year Old Woodworker (Video)