The whimsical and highly-functioning musical furniture of Washington-native Tor Clausen provides endless inspiration for woodworkers who are a bit eccentric. Yes, I guess that's all of you ;) I hope this quick post makes you go WOW and add a marimba garden bench to your list of summer projects.
Or at least make you go wow :)
Don't miss the videos below of Tor's musical tables in action!

Musical Coffee Table

Musical Garden Bench


(Garden bench plans + bass marimba plans = ???)
Don't stop there though…
What's a picnic table but a MASSIVE bass marimba? (Start with our picnic table plans :)
Heck, what are sawhorses but single notes of the world's most practical xylophone? Just make sure your woodworking project's finished before your musical guests arrive ;) (Our sawhorse plan collection has some good note prospects…)
Bonus: Cutting board plans + free guitar plans = the Butcher Block Electric Guitar…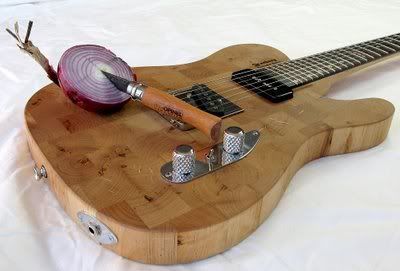 Suggested Musical Furniture Resources
Building a Bass Marimba
Plans for a LARGE outdoor marimba
Need to build a marimba (SawmillCreek thread)
Build a xylophone out of almost anything
Videos of Tor Clausen and His Tables in Action
Musical Rumba Table by MusicalFurnishings.com

Video: About Musical Furnishings

Video: Tor Clausen Building a Musical Treasure Chest

Video: Creator Tor Clausen on a wood shopping trip… looking for musical boards!

Tor Clausen's musical tables are an oldish item… here's more coverage you may find interesting:
Percussion Table Makes for Musical Chairs
Percussion table
Musical Drum Table Will Drown Out The Awkward Conversations At Your Next Cocktail Party
10 Ways to Ditch Guitar Hero and Score With Real Groupies
Drum Table: Perfect Accompaniment for Drinking Songs
Rumba Table x Musical Furnishings
And here's more ToolCrib.com coverage of golly-gee neato woodworking!
Wood Imitates Life: Meet the Amazon Kindling!
4 Shocking Wooden Oddities: Inspiration for Woodworking Wierdos ;)
Video: Cabinet Maker Locks Self in Cabinet, Leaves it on Street as Prank
The iWood: for iPhone Haters and/or Woodworkers
Makita Ad Uses 20,081 Holes to Drill Message Home…
Dutch "Noah" Builds 1/2 Size Ark Replica – Free Plans Not Yet Available
Golf Course Tree Yields Golf Ball Burl
New Study Shows that Mens' Brains Equate Women in Bikinis and Power Tools
A Working Wooden Vespa by Portuguese "Carpintaria" Carlos Alberto
Table Made of 8 Contractors Levels and a Glass Top
Wooden Gear Clocks by Keith Chambers
Video: Wood Sculptures that Move
Life-Size Wooden Sculpture of a VW Bus: Video + Pics
All-Wooden Machine Made by 70 Year Old Woodworker (Video)