Free yourself from the chains of your porch swing with these incredible free plans we gathered from around the web!
These outdoor gliders and rocking chair plans put you in that summer sweet spot: the porch or deck! Though they are in short supply compared to their chained cousins, we rustled up 8 free plans so you can bliss out this summer :)

>> 4 Free Porch Glider Plans
Why swing when you can glide? Let the smooth, soothing motion of these porch gliders send you and your loved ones to "that happy place."
Build A Classic Porch Glider w/PM Plans

Adirondack Loveseat Glider Rocker Plans

Glider Mechanism Cut List (PDF)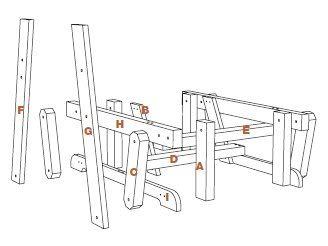 >> 4 Free Porch or Outdoor Rocking Chair Plans
Most rocking chairs are for indoor use only… not these sturdy rockers! Put them on your porch, deck or patio and enjoy the relaxation that outdoor rocking chairs bring!
Adirondack Rocking Chair For Two

Fashion a rocking Muskoka chair out of composite wood

>> 31 More Free Plan Collections by ToolCrib.com
11 Free Guitar Plans, 20 Guitar Building Jigs and 35 More Resources for Newbie Luthiers
17 Free Garage Woodshop Plans: Ingenious Space Savers for Garage Workshops
52 Outdoor Bench Plans: the MEGA GUIDE to Free Garden Bench Plans
16 Planer Table, Cart, Sled and Jig Plans and Resources
10 Downdraft Table Plans and Build Notes for Wood Shops
14 Work Surface Expansion Plans: Workstations, Carts and Worktables
8 Free Benchtop and Contractor Table Saw Workstation and Outfeed Table Plans
25 Free Backyard Playground Plans for Kids: Playsets, Swingsets, Teeter Totters and More!
14 Circular Saw Jig Plans: Crosscut Jigs, Ripping Jigs and More!
10 Free Wooden Bike Plans: Make Your Own Wood Recumbent, Bamboo Bike and More!
11 Free Miter Saw Stand Plans + 9 Pictorial Idea Guides, 2 Videos, 6 Paid Plans and MORE!
7 Table Saw Jointing Jig Plans: Straight Edge, No Jointer
13 Free Clamp Storage Plans: Space Savers, Mobile Clamp Carts, Pipe Clamp Racks and MORE!
15 Free Table Saw Outfeed Plans: Mobile Tables, Folding Tables, Outfeed Stands and More!
21 Free Cat Furniture Plans: Free Plans for Cat Trees, Condos, Scratching Posts and MORE
19 Free Jewelry Box Plans: Swing for the Fence with a Wooden Jewelry Chest!
The 38 Most Popular Free Woodworking Plans of 2008
31 Free 3D Puzzle Plans for Woodworkers: Burrs, Japanese Boxes, Tangrams and MORE
25 Fast, Easy and Free Woodworking Plans for Last Minute Christmas Gifts
Build Your Dream Workshop: 23 Free Workshop and Shed Plans
12 Free Workshop Storage Plans: Tool Cabinets, Rolling Carts, Under Stair Storage and More
20 Free Cutting Board Plans + the 4 that Blew My Mind
15 Free Mobile Base Plans: Put Your Power Tools on Wheels
Wood Storage 101: 14 Lumber Storage Plans and 7 Storage Tips
32 Free Picnic Table Plans + Top 3 Most Awesome Picnic Table Plan Awards
15 Free Toolbox Plans for Woodworkers
24 Free Sawhorse Plans in the Hunt for the Ultimate Sawhorse
ToolCrib.com's Ultimate Guide to Free Woodworking Workbench Plans
9 Sandpaper Storage Ideas (+ free plans)
ToolCrib.com's Ultimate Guide to Free Router Table Plans
ToolCrib.com's Ultimate Guide to the Crosscut Sled