What's cheaper than Ebay, with more woodworking than Etsy can shake a stick at?
CraftsmansWoodShop.com, a new woodworking sales startup by Joe Truehart, of Appleton, WI.

To give you an idea of how it works, here's the page of Mr. Osowski, of Timberwerks Studios >>
From that page, visitors can view Osowski's works, such as the Summer Storm, a table made from a tree struck by lightning: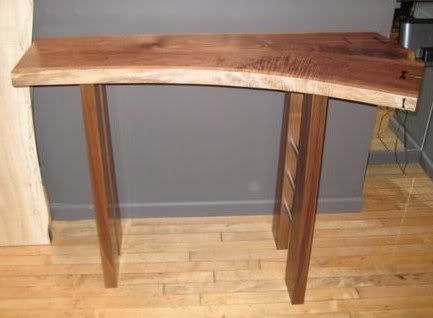 I had the pleasure of speaking with Mr. Truehart, and he shared some of his vision with me. The site helps three types of people in the following ways:
1) DIY Woodworkers Looking to Make Side Income
CraftsmansWoodShop.com connects your work with interested shoppers from around the country. Test your wares in the online market place for woodworking!
2) Pro Woodshops Looking for Local and National Leads on Custom Projects
Professionals seeking leads in their local areas get dedicated pages and posts in the gallery where local shoppers can browse and then contact them directly.
3) Customers Seeking Custom Woodworking
Curious customers and woodworking aficionados alike can find high-quality custom woodworking services and products, either locally or nationally. Plus Joe's building a knowledge base to educate customers on the value of custom woodworking projects.
Here's a quote from Joe, on his site that sums up the idea behind this new venture:
"For some time now and to no avail, I have looked for a quality site that allowed craftsmen, such as myself, to showcase their skills to the public and allow the masses to take advantage of the skills found in their own backyard. So I thought, why not create one myself."
For a modest price (cheaper than Etsy or EBay), CraftsmansWoodShop.com posts pictures and site links, handles sales through PayPal and arranges shipping on large pieces.
Whether you're a DIYer, a Pro or someone interested in purchasing the best in custom woodworking, visit CraftsmansWoodShop.com!
NOTE: ToolCrib.com is NOT financially affiliated with Joe in any way, though I have invited him to write for us in the future :)
I found Joe's site at Woodnet, in a forum post by TimberWerks.