Your feathered friends – and all those people on your Christmas list – would love for you to prove your woodworking prowess and justify all that time you spend in the shop with a cozy birdhouse! This collection of free bird house plans goes from basic to obsessively decorative, and everything in between. And if you're looking to squeeze a little extra green out of your shop time, birdhouses are among Joe Trueheart's 12 most sellable woodworking projects.

So, as far as I can tell, there are two basic types of bird houses: "cavities" for bluebirds, chickadees, etc; "platforms" for robins and waterbirds etc. When it comes to making good homes for the birds in your region, first you need to know what kind of bird you're attracting. Then you just have to adjust the home's dimensions to meet their needs. This birdhouse dimension chart should help you win the tenants you want :)
Here's what you'll find in this collection:
>> 4 Basic Birdhouses
>> 6 Extreme Birdhouses
>> 3 Bluebird House Plans
>> 6 Purple Martin House Plans
>> 6 Birdhouse Building Videos
>> 4 Basic Birdhouses
You can't go wrong with the basics. Usually. These birdhouses are great afternoon projects or even high-production projects for entrepreneurial woodworkers.
The Real Bird Homes Chalet


(See video on this one below)
Cylendrical Birdhouse


(looks like it would be a good seller…)
>> 6 Extreme Birdhouses
Like birds with fine plumage, these extreme birdhouses will cause people to "ooh" and "ahh" when they walk through your garden.
Mid-Century Modern Birdhouse


(see video below)
Pallet Wood Birdhouses


(the creator sells these)
The Back to Nature Bark-Fronted Wonder

3 Designs from Canada – All Ornately Finished

>> 3 Bluebird House Plans
My neighbors fed meal worms to bluebirds from their hands. Bluebirds win popularity contests every time, and you can't go wrong with the simplicity of a bluebird box unless you live in certain parts of Kansas.
Eastern Bluebird Nestbox (Smaller than Western/Mountain)

Western + Mountain Bluebird Box (Bigger than Eastern)

>> 6 Purple Martin House Plans
Purple Martins look like a labor of love to me. Here's a guide to attracting and maintaining purple martins, or, becoming a "purple martin landlord" as the enthusiasts call it… Here's a great blog for purple martin lovers, also where I found these Purple Martin house plans.
Swiss Chalet Style Purple Martin House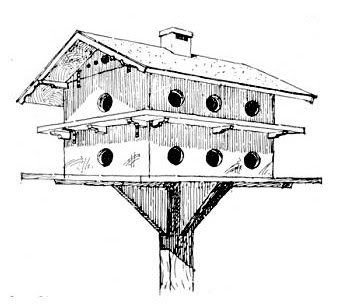 Plan 8 Purple Martin House from the Pennsylvania Game Commission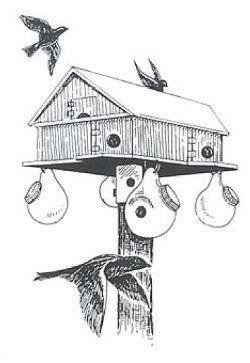 Stryrofoam Purple Martin Modular Housing System

>> 6 Birdhouse Building Videos
Pictures are worth 1000 words. The word exchange rate on these videos goes from about 10,000 words on down to maybe 10 or so ;)
Video: Chickadee and Swallow Birdhouse Guide

Springer Chalet Plans
Video: Build Your Own Mid-Century Birdhouse

Video: Extreme Birdhouse, Extreme Birdhouse Builder

Every birdhouse he builds gets a little mini birdhouse. Nifty. Maybe a bit too extreme. You decide.
Video: How to Build a Bluebird Nesting Box

Video: How To Build An Eco-Friendly Birdhouse

(aka plant a tree?)
Video: Claymation – How Not to Build a Bird House