Ever since I had the pleasure of seeing Keith Chamber's wooden gear clocks in person, I've been on the look out for more all wood clocks. See Wooden Gear Clocks by Keith Chambers >>

I think wooden clocks are one of those dividing lines in woodworking… To have the aspiration to make a clock, entirely from wood, puts you in your own unique category.
One well-known seller of wooden clock plans, Clayton Boyer, pitches his most-difficult plans like this: "Selling plans for the clocks on this page goes against my basic philosophy of trying to spread joy in the world through creative woodworking. However, I have come to the conclusion that I should not stand in the way of a woodworker's desire for additional frustration in his/her life when they obviously want it so badly."
He won't sell plans from his "Masochist's Corner" unless you've built one of his simpler clocks first… and sent him photographic PROOF that you completed it. I love it.
Here's his Simplicity, his, er, simplest offering: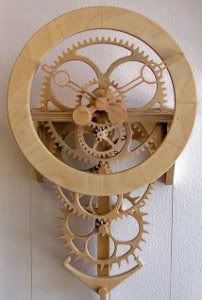 Also check out Clayton Boyer's Wooden Gear Clocks on YouTube
Obsessive, highly precise, slightly more than mildly eccentric… if that describes your woodworking personality then you might just appreciate these free all-wooden clock plans, along with the lists of pay plans below! Good luck, woodworker. I wish you well.
1) Build Your Own Wooden Grandfather Clock!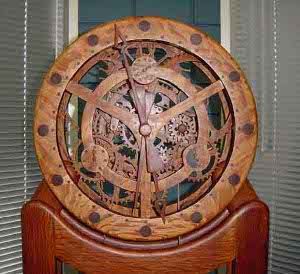 2) Woodenclocks: Clock1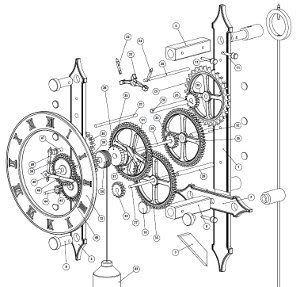 3) Woodenclocks: Clock2

4) Law Wooden Clock 4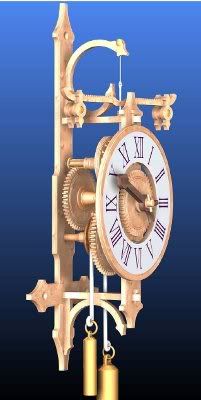 5) Law Wooden Clock 5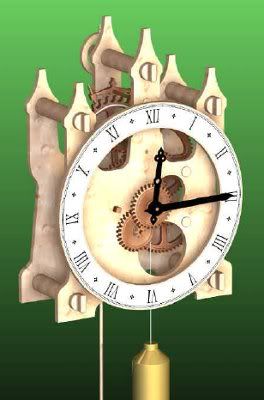 6) Wood Clock WC5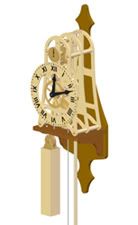 7) Wooden Gear Clock

8) Wooden Gear Clock MLT-13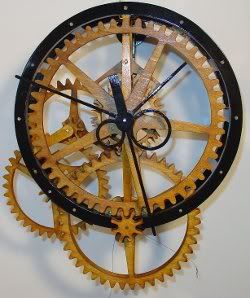 Not really a free plan, but you might be able to piece something together from the snippets available online:
MLT-13 from ScrollSawer Magazine
MLT-13 at SawmillCreek.org >>
MLT-13 at ScrollSawer Forum >>
And for all your wooden machine making needs, I proudly present the wooden gear template generator by my favorite mad woodworking genius Matthias Wandel.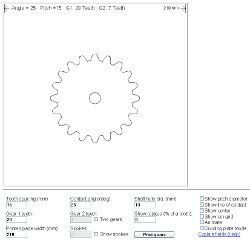 Once you've built those others, give this one a shot ;)
Wooden Clock

For Pay Wooden Clock Plans and Kits:
Create Your Own Wooden Gear Clock
Clayton Boyer Clock Designs
Wooden Clock Kits
Wood Gear Clock Scroll Saw Plans
Wooden Grand Father Clock
Wooden Clock Plans
Wooden Clock Resources + Inspiration
Clockmaking Forum
Wooden Works Clocks Introduction
rabbit's clocks