I learned of James Krenov's passing from TomsWorkbench. Krenov passed on September 9th, 2009. He is our 7th most influential woodworker. His passing makes 2009 especially tough for woodworkers, as Sam Maloof passed on May 21st.

His family asks that those wishing to make contributions in his honor donate to The James Krenov Scholarship Fund at the College of the Redwoods. I could find no formal mention of the scholarship, but I'm sure you could learn more by contacting the webmaster or calling 707-962-2663.
In his memory we gathered all the Krenov interviews, videos and articles we could find and include links along with quotations below. With condolences we humbly submit to you woodworking's Stubborn, Old Enthusiast.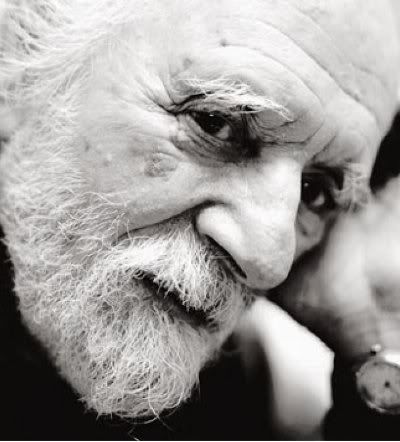 James Krenov: 1920 – 2009 (Fine Woodworking's Wonderful Rememberance)
"In the 2003, Fine Woodworking asked Krenov how he would like to be remembered… He responded, as a "stubborn, old enthusiast.""
Video: James Krenov on Planes by FineWoodworking

Video: James Krenov Repair ShopJames Krenov Slideshow from Fine Woodworking
A beautiful tribute that would bring tears to any woodworker's eyes even if he were still living.
James Krenov: Words and Music (Christopher Schwarz remembers Krenov)
"Few woodworking writers have ever managed to capture, bottle and distribute that impossibly compelling but difficult-to-explain relationship that all artisans have with their raw material. That was James Krenov's gift to us all."
James Krenov: Practical lessons from a renowned master (PDF)
"Woodworkers from all over the world have made pilgrimages to learn from this master craftsman. Though he recently retired from teaching, you can still learn from his experience as he walks you through his process for designing and building one-of-a-kind furniture."
James Krenov Bio from College of the Redwoods
"James Krenov was born on October 31, 1920 in Wellen, a Chukchee village on the Arctic Circle in Siberia. As his parents sought out a more promising situation, he spent nearly two years with his grandfather in Shanghai."
James Krenov 1920 – 2009
"…several years ago I designed what I thought was a great pull to accent my G&G inspired designs. I was feeling very good about myself for coming up with said design until one day I came upon a poster in my file cabinet. The poster was an announcement of the Krenov workshop I had attended. There on the poster was Krenov's block and dowel pull which my sub-conscious had filed away and brought forward years later."
James Krenov's Last Cabinet
"With failing eyesight, Jim stopped cabinetmaking in July of 2006. If you visit his web site — www.jameskrenov.com — you'll find a page devoted to his final effort, "the last, unfinished, cabinet". This piece was commissioned by my wife and I. Jim got as far as putting the cabinet together, and cutting out the drawer fronts for the inside drawers, but could go no further. His call asking if I would complete the piece created a swirl of conflicting thoughts and feelings. After much consideration, and no small amount of trepidation, I agreed to do it."
WoodCentral Interview with Krenov
"Most people would say that Krenov starts with the wood. And there is truth in that. But, a functional idea for a piece that is going to be more than decorative can lead to the wood being less important than pleasant and beautiful fulfillment of the function of the piece. So, wood isn't all of it."
Krenov Tribute Poem
…he said
one shortcut leads to many, and he held
beauty and harmony above all else
and taught the rest of us to slow our work.
James Krenov, Wood and Word Worker, Is Dead at 88 (NYTimes Obit)
"The plane, he said, "is the cabinetmaker's violin.""
James Krenov, 1920 – 2009: Remembered at Woodworker's Journal
"There's no doubt that James Krenov's influence will continue. His work will be referenced and studied, copied and critiqued as it has been for so many years. But the force of his character and the spark of his creativity has been lost to us, and that is a sad thing indeed."
James Krenov Passes On
"James Krenov made a generation of woodworkers stop and think about their work, their tools and their material. After Krenov's first book, A Cabinetmaker's Notebook appeared, we all looked at these things a little differently."
James Krenov Obituary: cabinetmaker (Times Online)
"I always think of wood as being alive," he wrote. "I grew up in primitive places where there were many legends and the supposition that some objects were animated and alive with a spirit of their own."
A Conversation with James Krenov
"Me, being a sort of pre-Kerouac hippie, I had a message that went with the '70s, "Live the life that you want to live. Don't be unhappy in your work.""
James Krenov And the College of the Redwoods
A write up on the College of the Redwoods from American Woodworker.
The Personal Touch: an Interview with James Krenov
"I visited Jim Krenov recently to try to discover the essence of his teachings – I call it the "personal touch" – that intimate sensitivity to material and detail so evident in Krenov's work and that of his students."
Trestle Horse Plans: The Krenov Sawhorse
"The sawhorses we use at The College of the Redwoods are of a type that Jim Krenov used at his home in Sweden."
James Krenov Obit in the Santa Rosa Press Democrat
"Author of five books and mentor to hundreds of students, Krenov left an indelible impact on the art of designing and building one-of-a-kind pieces of furniture."
James Krenov 1920 – 2009
Krenov's daughter, Tina Krenov, left a comment on this blog post.
James Krenov: A Legend in His Time
"As they do in any discipline, masters become known for their particular strengths. Krenov was known for his keen sensitivity of design and artistry with hand tools."
James Krenov started making wooden toys at age 6
"From the time I was 6, I was making my own toys with the jackknife," says Krenov, 88. "It was a joy to me that I could rely on my hands and my eyes to produce things."
transcripts of Krenov interview done by the Smithsonian
"The following oral history transcript is the result of a tape-recorded interview with James Krenov on August 12 and 13, 2004. The interview took place in Fort Bragg, California, and was conducted by Oscar Fitzgerald for the Archives of American Art, Smithsonian Institution."
Special Krenov focus in FWW is a strange coincidence
"A series of coincidences is like a row of dominoes. The first one was that we had a number of Krenov-inspired articles in the works. The main one, a display cabinet project, built by Jim Budlong, a longtime instructor at College of the Redwoods, was pulled from the last issue of FWW (207) to make room for a last-minute tribute to Sam Maloof…"
>> Krenov Remembered in the Forums
James Krenov Remembered at LumberJocks:
Passing of Jim Krenov
James Krenov 1920-2009
James Krenov Remembered at Sawmill Creek:
James Krenov
Krenov Tribute Thread
Jim Krenov remembered at WoodNet
"Personally I'm not a huge fan of Krenov's style. However I do like how polarizing it is. Its a love or hate thing. Not a lot of middle ground. Even if you hate it you really should respect it."
>> Krenov Resources:
Inside Passage: founded on the teachings of James Krenov & Robert Van Norman
The Official James Krenov Site
The College of the Redwoods
James Krenov in Wikipedia