We recently got a sawhorse plan submission from a reader named Richard, to add to our 38 Sawhorse Plans. First he sent in pics of the inspiration that he saw in an old nursery – I added those to the comments.
Then he sent detailed pictures and build notes of his design (below), which looks like it has a shortened stretcher and spent several years power lifting and taking steroids.
He says "For a take-down sawhorse, I think this is the 'Ultimate Sawhorse.'"
I agree.
It's a brilliant design and looks strong as an ox. If you agree, and you build one, please call it "the Richard" in his honor. This beast will compliment any contractor out on the jobsite – it's probably a bit too burly for the average DIYer.

The Richard, A BEAST of a Knock-Down Sawhorse: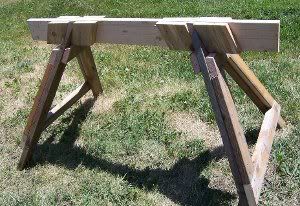 First, here are his build notes:
"I built it from all 2 in stock. The stretcher is a 2 X 6, and is 5 ft. long. The risers are 2 X 4's, and the height is 35 in., to match my truck bed.

"I set both the splay and brace angles to 15 degrees, to simplify saw set-ups.

"As you can see, I built it extra heavy duty, to hold bunks of plywood.

"All joints glued and screwed. When setting up the joint spacing, I put a sheet of card stock in between the riser uprights to establish a small spacing between the uprights and the stretcher.

"I like a take-down model, I can throw it into my rig and it takes up very little space."
Click images for a larger view: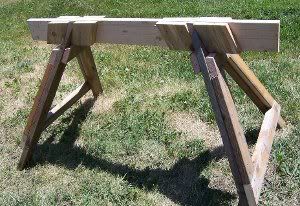 Riser Side View: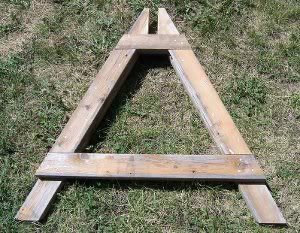 Riser Closeup: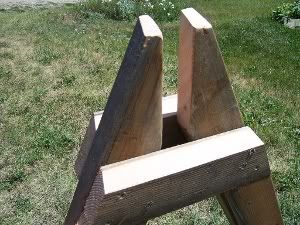 Riser Closeup with Stretcher Inserted:

The Stretcher: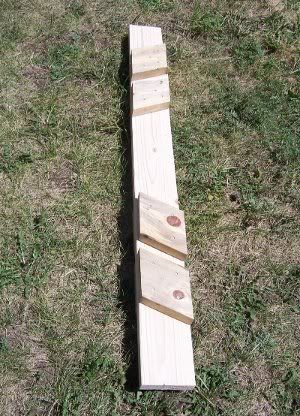 Connecting the Stretcher and the Riser: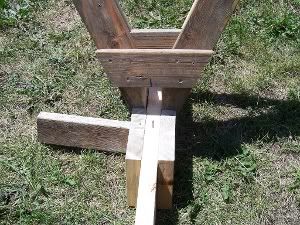 The "Richard" Inverted: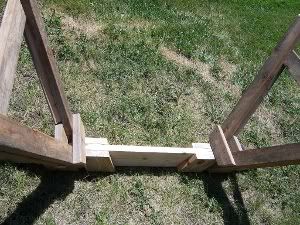 Also see 38 Sawhorse Plans (soon with +1 ;)