Folks, it's high time dogs had their day at ToolCrib.com. Cats have gotten uppity since we published our collection of free cat tree plans, and with this collection of free dog house plans we finally return balance to the universe. Woof!
For some basic, non-plan guidelines to keep your dog healthy in his new home, check out Keep These Important Tips In Mind When Building A Dog House!

Here's what you'll find below:
>> Dog House Plan Awards: Best in Show
>> Slanted, One-Sheet Roof Dog House Plans
>> Peaked Roof Dog House Plans
>> Dog Shelter Plans: Shade, Not Insulation
>> 3 Dog House Building Videos + Plans
>> Dog House Plan Awards: Best in Show
Build an insulated A-Frame doghouse for under $75 (Great guide, great plans, great idea, great look… TOP Dog house)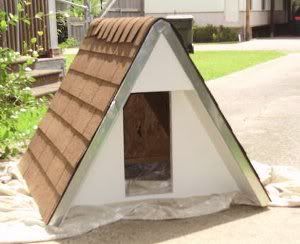 "This doghouse is suitable for a small to medium-sized dog with a 9 square foot base. I purchased my materials at Home Depot. Note that the doghouse uses an existing floor–in my case, an outdoor deck–so no base is included in this plan."
Funny Build Notes for Gigantic, Custom Multi-Dog House (Best write up award… great notes for folks building a custom dog house)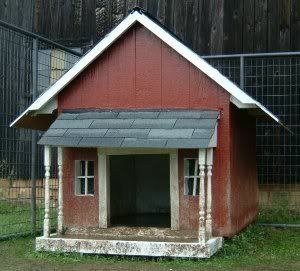 "How do you say "I love you" to an animal that doesn't speak English? Well, P-nut would tell you that you give him carrots. Jake and Miles would say you rub them, play Sock with them, and feed them smelly stuff. The cats – they'd want you to sit still and be warm. But sometimes you just want to spoil your special friends. So…"
In The Doghouse: Lowes (Keeping up with the Martha Stewarts award)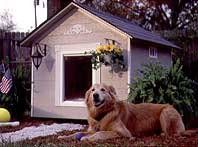 "Pets are part of my family. When it's cold outside, I let them in; when it's hot outside, I let them in. "They're dogs. They belong outside," says my husband. But as I look outside, the most irresistible puppy dog eyes persuade me. To keep to a minimum the muddy paw prints on the floor and the hair on my clothes, we decided on a comfortable solution that makes everyone in our family happy—a delightful doghouse."
Gingerbread Dog House (No Way, No How award)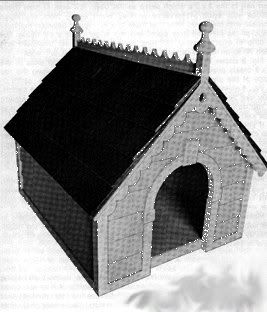 How to Build a Solar Dog House (Hot Dog + most in need of safety warnings Award)

>> Slanted, One-Sheet Roof Dog House Plans
Insulated Dog House Plan


"This unique, insulated Dog House Plan is only one design of many dog houses. It is designed to provide an insulated, warm, dry, comfortable dog house for your dog; plus it is designed to be easy to clean!"
Dog House: Lowes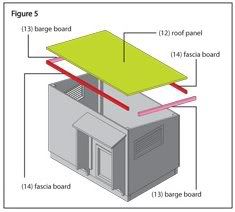 "Give your pet a sturdy shelter from the elements."
Flooring for Fido


"Above-ground kennels aren't little jails. Rather, the kennel is a dog's bedroom and den, a place where a dog feels happy and secure."
>> Peaked Roof Dog House Plans
The Sparky1 Dog House


"It features an insulated floor, roof, and walls, a removable roof for ease of cleaning, a cedar deck with roof, an optional inner wall, and solid construction throughout."
Designer Dog Kennel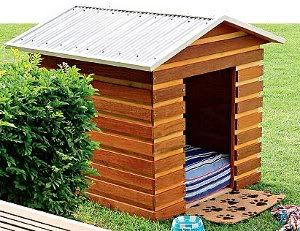 "Your best friend deserves the best, so if it's time to do something about his or her accommodation, spoil them with a kennel that's comfy and good to look at."
Basic Plans for a Large Dog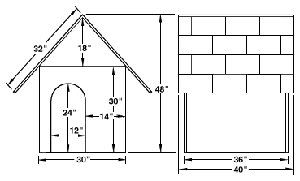 "Protect your four-legged family member, too, with this simple-to-build house. It'll give him shade on sunny days and a welcome shelter on rainy ones. And you can even decorate it to suit his unique personality!"
How to Build a Dog House: DIY Network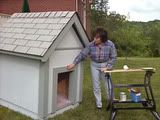 "Begin by determining the size of the doghouse based on the dog's full-grown size. A dog should have enough room to freely turn around and lie down while still allowing room for food and water bowls."
Dog House Project Plan by Georgia-Pacific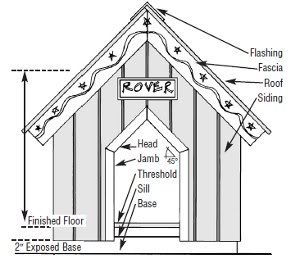 The dog house is designed to provide a sturdy shelter for a medium sized dog. A rear vent can be added to the back side of the dog house for additional ventilation.
Harry & Sal's Dog House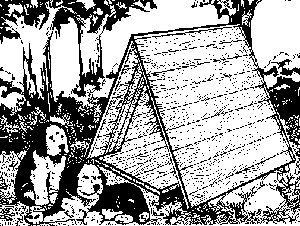 Here is a design for a simple A-Frame shelter which is easy to put together and could be adapted for all sizes of dogs.
Building A Doghouse: Lowes 1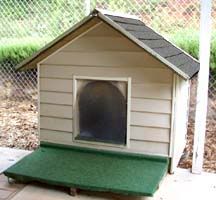 "Building a doghouse is a great family project. With these instructions a beginner level DIYer should be able to complete this project in a weekend, using common household tools."
Dog Kennel for Large Dogs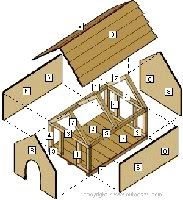 "This kennel will accommodate a large dog but is really suitable for a dog of any size."
How to Build a Wooden Dog House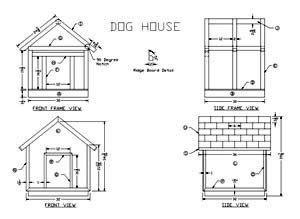 "Give your pet the needed protection from the wind, rain, and snow. This medium sized wood dog house is functional as well as stylish. It is primarily constructed of cedar wood to help withstand insects and decay."
Simple Doghouse 1.0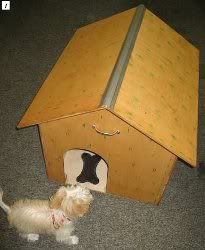 "About a month and a half ago, I welcomed a new member in my family, Max a very nice and sweet little Silky Cocker . :o) I quickly realized I needed a doghouse for Max since he is staying in my enclosed backyard during the day, when I'm not home. Of course I could've bought a doghouse at my local pet store but since I already had some plywood sheets , I thought it would be more fun to actually build one and write an instructable from it."
>> Dog Shelter Plans: Shade, Not Insulation
Green Roofed Dog Veranda


"My primary motivation for building this is to create a shaded space for my dogs to rest when out in the yard with the added benefit of providing real estate for an additional herb/bee/butterfly garden. My dogs are spoiled rotten and sleep in bed with my wife and I, this is a spot for them to rest when playing in the yard, it is not designed for a dog to live in."
How to Build an Open Air Doghouse:The Doggy Retreat


"We all need our own space sometimes, even pets, it sounds weird but it's true. When you look at the pics below you may think this is a dog house, but it is not, you may say this is lattice work but it is not, or you may call it a trellis, which it is not. What it is though, is a combination of all three of those with a twist. The idea is to create an open air retreat that I can get vines to grow on to help the dogs feel like they are in there own element."
>> 3 Dog House Building Videos + Plans
Dog House Building Video from Michael Holigan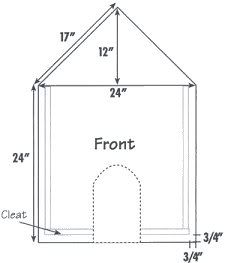 How to Build a Custom Doghouse: Video Instructions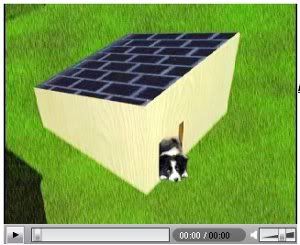 Dog House: ACE Hardware Flash Movie How To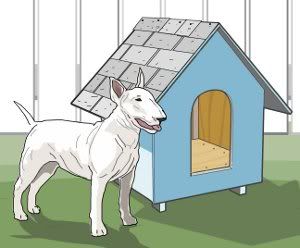 Lists of Free Dog House Plans:
All About Dog Houses
Dog House Plans from FreeWW
Dog House Plans from Suite101