Now that I've got the Hourly Press running, I get a steady stream of great woodworking stories! Check it out over at Woodworking News and Notes. I monitor that page throughout the day and just gather up my favorite stories of the past week. There are some great stories this week, including a scroll saw pattern of some jack o lanterns, plans for great-sounding speakers and a new type of wood called "Denim Pine…" Enjoy!

Scrolling Pumpkins from Maple – Happy Halloween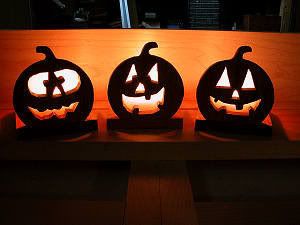 "My daughter loves Halloween. I love my daughter. Put the two things together and when October rolls around I start thinking of what to make that will make her giggle. This year, along came Steve Goode, the guy who runs the blog called The Scrollsaw Workshop."
Low-cost, high-performance Transmission-line Speakers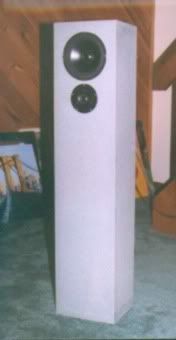 "I designed these speakers and I'm happy to share the design. This site is designed to let you build a pair of very nice speakers for very little money. I designed and built these speakers in the summer of 2002 and finished them in time to demonstrate them at the annual Shopsmith Users Group Weekend in Dayton, Ohio."
Tom's Workbench Link of the Week: Denim Pine


So, you have a stand of lodgepole or ponderosa pine trees that have been infected by the mountain pine beetle, and now the wood you have harvested is a pale shade of blue. What can you do about it? Well, if you are an association of foresters in British Columbia, Canada, you harvest the timber and sell it as Denim Pine.
WIA – A behind the scenes account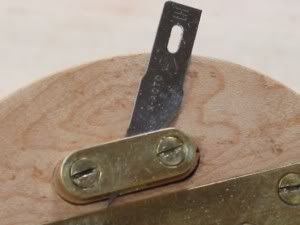 "I dealt with stringing, compass inlay, edge banding and sulphur inlay. That's still a lot to cram into an hour and a half lecture or a two hour hands on workshop."
Customer Project Gallery: The Table That Ran Away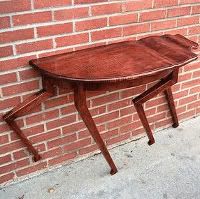 "One of my favorites is shown here: Running Table by David T. from Cypress, California. How fun is this? Check out the gallery to read the story of how David made this console table and turned it in for his college English project, and find out why the table ran away! Incredibly creative!"
A catalog of great furniture design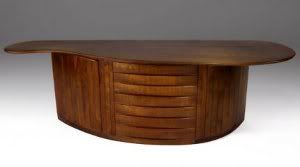 The auction includes works by well-known furniture makers Wendell Castle, George Nakashima, Wharton Esherick and Judy McKie, among many others. There are even a couple of plywood chairs by Frank Lloyd Wright. Also featured are works by Mid-Century designers like Charles Eames and Hans Wegner, along with less familiar contemporaries like Paul McCobb, Phillip Lloyd Powell and Harvey Probber.
Wave Goodbye: An Amazing Design!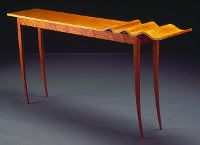 "This table combines several design concerns of continuing personal interest: motion, asymmetry, and plasticity. Many people enjoy its graceful humor, and it resides in several prominent collections."
103 – Flush Trim Bits
"Flush trim bits come in all shapes and sizes, but they all share the same basic anatomy. After watching this video, you'll have a much better idea of which ones to buy and when to use them."
Wood Magazine ProductionForums: If I could tell the manufacturers…
"If you could change one of your existing power tools – and have all the manufacturers follow that change, what would it be?"
Wood'n Bits Workshop » Working with Thin Wood Stock
"I cut a lot of thin strips from standard lumber stock using a table saw. I know there are those who believe their table saw provides .001? accuracy. Mine does not and often I'll need to fine-tune the thickness of the results. It's also the case that the surface itself is simply not smooth enough for miniatures work. I fix both of these problems using a heavy card scraper in a simple handle I made."
Router Trammel
"The router trammel (also know as a circle cutting jig) is an jig that allows you to route a controled arc or circle. There are several manufactured models available to purchase. However they are quite easy to make in the shop."
In Defense of An Old Friend
I'll be honest with you: I've got several different routers on the shelf. But what did I reach for first? My good old Porter-Cable 690LRVS with a fixed base.
Domino Butt-Joint to a line
This is a post I made on The Woodwhisperer Community forum about how to butt-joint a member into the middle of another with a Domino joiner. Normally you use registration surfaces to create Domino'd joints, but here you have a line.
Yonkers man loses four fingers in woodworking business accident
A 50-year-old city man cut off four of his fingers in an accident Monday in the woodworking shop where he is employed, police said.
Shop made grooving planes – Fine Woodworking
"Smart construction. Beech sides sandwich a rosewood core that serves both as the "frog" and as the skate. Shop-made satisfaction. Using a tool you've made yourself is pleasing, especially when it works as well as these grooving planes."
Previous Roundups:
Woodworking Roundup: Favorite Shop Sounds, New Old-Growth Mahogany, Concrete Jigs and MORE