Way, way WAAAYYY back in May of 2008 we brought you ToolCrib.com's Ultimate Guide to the Crosscut Sled. That poor guide… it means well, but it's pretty far from ultimate. No pics, and only a smattering of crosscut sled plans.
This is the real ultimate guide folks. 22 free crosscut sled plans. 4 Videos. 9 written resources. Welcome, woodworker, to "Crosscut Sled Heaven."

Enjoy!
=>> 3 Crosscut Sled Theory and Inspiration Resources
=>> 22 Free Crosscut Sled Plans
=>> 6 Crosscut Sled Making Discussions from the Forums
=>> 4 Cross Cut Sled Videos
=>> 3 Crosscut Sled Theory and Inspiration Resources
Crosscut sleds are frequently modified from the original plans – that's what makes these resources so awesome. The first two go over the basic design "theory" of crosscut sleds so that you can create your own plans. The last one is a collection of pictures that will help get your brain's blade whirling.
1) Crosscut Sled Design Guide
"All the woodworking magazines periodically have a featured plan for building some sort of crosscut sled for the tablesaw. What they universally lack is an explanation of the design process for them, this is an attempt to cover that"
2) Designing Your Own Cross Cut Sled for the Table Saw
Forum survey on cross cut sleds: " I have seen various pictures of cross cut sleds. Most of them don't tell you what the thicknesses of lumber used are or any other dimensions. I have been studying pictures, comparing hands, thumbs, etc. to try to get ideas about dimensions. So, now, I'm just going to flatout ASK!"
3) 24 CrossCut Sled Pictures for Inspiriation
Pictures. More pictures. 24 Pictures of cross cut sleds. Go woodworker, get inspired!
=>> 22 Free Crosscut Sled Plans
Here they are, glorious, wonderful and free crosscut sled plans. It's likely that some build notes without plans snuck in there, so be warned. Crosscut sleds are very frequently modified and built "by eye" anyways, especially once you know exactly what you want.
1) Double Runner Cross Cut Sled With Blade Guard by Paul Comi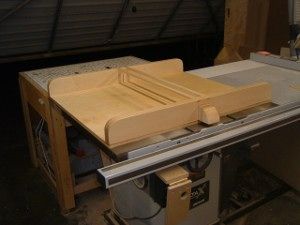 3) David Knipfer's Safety Crosscut Sled

4) Table saw crosscut sled by Matthias Wandel

5) Tablesaw Crosscut Sled by Niki


Cross-cut sled – different way (from Family Woodworking)
6) David Pruett's Cross Cut Sled

7) The Ultimate Shopbuilt Cross Cut Sled

8) Super Sled – Crosscut and Miter Sled

9) Make Your Own Crosscut Sled

13) Crosscut Sled for Wide Panels

14) Crosscut Sled with Zero Clearance

15) How-To Plan: Crosscut Sled

16) Tablesaw Crosscut Sled for Cutting Pen Blanks

17) crosscut sled with stop blocks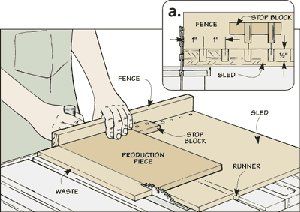 18) Building a Sliding Table for Your Tablesaw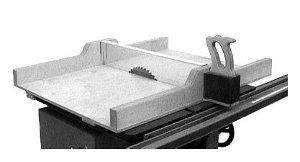 19) Building a Table Saw Sled 101

20) Crosscuts with a Table Saw Sled

21) Shop Built Adjustable Cut-off Jig

=>> 6 Crosscut Sled Making Discussions from the Forums
Forums are wonderful places. Woodworking forums, well, those can get a little rough ;) Here are some great crosscut sled threads that will inspire you to visit but not live in forums!
1) Cross-Cut Sled (From reclaimed wood…)
3) Table saw sled usage question
4) 1/2 or 3/4 ply for cross cut sled?
5) The Horror! Crosscut sled problem
6) Squaring Up a Cross-Cut Sled
=>> 4 Cross Cut Sled Videos
Videos are worth 1000 pictures. I hope these help your cross cut sled adventures!
1) Video: Using a Crosscut Sled
3) Video: table saw crosscut sled

4) Video: The Folding Rule – Table Saw Crosscut Sled