If you value your sanity STOP READING RIGHT NOW. The following puzzle plans will not only challenge your woodworking ability, but your ability to control your anger and frustration when you attempt to master your own creations… Puzzle makers seem almost gleefully willing to share their secrets, perhaps because they are just the slightest bit sadistic ;)
Join me now on a tour of 30 free 3D puzzle plans for woodworkers… and please don't blame your newfound obsession on me :D
>> ToolCrib's 3D Puzzle Awards
>> 3D Wooden Puzzle Design + Build Resources
>> 4 Put-Together Puzzle Plans
>> 7 Take-Apart Puzzle Plans
>> 15 Interlocking Solid Puzzle Plans
>> 3 Disentanglement Puzzle Plans
>> 2 "Just Plain Mean" Puzzle Plans (No Solutions)
>> 3D Puzzle Inspiration
>> My Sources
>> More Free Woodworking Plan Collections
>> 3D Puzzle Awards
Coolest Puzzles I couldn't find plans for:
Articulated Interlocking Sculpture Puzzles


These are by Peter Chapman, who describes his puzzles like this: "Each of these three dimensional interlocking puzzles is cut from a single piece of wood. The animal articulates and moves like the creature it represents. Sequentially locking pieces create a sculpture that stays together when locked with the eye piece. Best of all – every one has a surprise inside! "
Best "scrap wood" puzzle:
Bandsaw Puzzle Cubes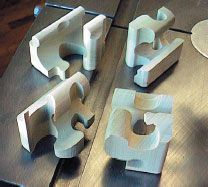 "Here's one way to put some of your cherished chunks of thick stock to good use, producing casual gifts of irresistible appeal to young and old alike. Kids under ten can reassemble these puzzles in 30 seconds, grown-ups in only three or four minutes if they're sharp."
Most FIENDISH Puzzle:
The 25 move (PDF)


All the moves on this box are very similar to the 14-19 box, but in this version there are four more "secret" sliders, that don't seem to do anything. To start with, they won't move at all! They only come into play at different times during the sequence of moves. Which makes it a bit irritating trying to get the box open…
Video: Bruce Viney's 25 Move Puzzle


>> 3D Wooden Puzzle Design + Build Resources
Through the course of my research and the assembly of this article I have come to believe firmly that puzzle makers encourage others to become puzzle makers because they have a sadistic streak. Consider yourself warned ;)
The Puzzling World of Polyhedral Dissections By Stewart T. Coffin
"…this book is intended to be more than simply a collection of puzzle designs, plans and instructions. This is a puzzle designer's guidebook. Some of the most rewarding recreations are neither in simply solving puzzles nor in making them, but rather in discovering new ideas and crafting them into a form that others may enjoy too."
23 chapters, hundreds of pages. All free. There are puzzle plans in there too… >>
Precision Puzzlemaking Primer — Volume 1
This instructable will guide you through all of the steps necessary to turn an ordinary table saw into a precision puzzlemaking machine. By Lee Krasnow
Woodworkers take heart – getting addicted to puzzle making is now easier than ever… >>
Puzzle Classification by Jerry Slocum I used this classification system for organizing the free puzzle plans I found.
Home Made Puzzles
(this guy builds his burr designs out of legos, but has had woodworkers build his plans and send him the results that's how good his designs are)
Tips and Hints for Puzzle Making Woodworkers
Making "Square Sticks" for Your Puzzle Building (PDF)
Making Rhombic Pyramid Blocks from Square Sticks (PDF)
Burr Tools (free programs for burr puzzle design)
This (set of) program(s) will help you solve a certain kind of puzzle. Namely puzzles that are made out "glued" together basic units. As basic units the program currently supports: square or dice shaped units, spheres, prisms with an equilateral triangle as base or an oddly shape tetrahedron.
The burr puzzles site (by IBM) Yes folks, IBM made a site dedicated to 3D puzzles. You know you're entering a maddening world here, right?
Puzzle Forums:
Puzzle World Forums
TwistyPuzzle Forums
CubicDissection Forums
>> 4 Put-Together Puzzle Plans
These puzzles seem like they'd be easy because they will remind your victims of jigsaw puzzles…
Tangram Puzzle – Free woodworking puzzle plan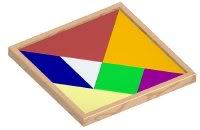 A Rectangular Puzzle


"This puzzle consists of a rectangular shape cut into pieces and reassembled. The rectangle can be made from any sheet material, paper, card or wood. I made this from sapele with a pine box to fit."
>> 7 Take-Apart Puzzle Plans
The Take-Apart puzzles category is DOMINATED by Bruce Viney of http://www.HomemadePuzzles.co.uk. In fact, there were actually TOO MANY FREE PUZZLE PLANS on his site for me to list them all here. I picked my favorites and put them below. Check out ALL his free puzzle plans here:
Bruce Viney Puzzle Gallery 1
Bruce Viney Puzzle Gallery 2
Bruce Viney Puzzle Gallery 3
The Knight's Tomb (PDF)


The box size is 5-1/2" x 3" x 3", made of 1/8" and 1/4" plywood. It looks just as good without the knight's figure: it's up to you. 16 moves to open, if you know them. Otherwise, very difficult to open.
Medieval Casket (PDF)


These lion heads actually move, and form the locking mechanism that holds the lid shut. These moves are made in a certain order, to release the lid. Apart from the lion heads, there are no moving parts visible.If you know how, takes only 14 moves to open. If you don't know , it's fairly difficult!
Puzzle box


"Rather than just having a simple sliding top, this box also has a concealed locking mechanism that must be dealt with in order to open the box."
The Jail Cell (PDF)


"This is one of those puzzles where you have to think "outside the box", as it were. The box measures 5" x 3-3/8" x 3-5/8", and is made from 1/8″ plwood and 1/8" dowel rods. Easy to make. Fairly difficult to open, using four sliders to release the cell door."
Put Me Together (PDF)


Twenty-seven cubes, glued together in various ways to form five pieces. Simply take them apart, then re-assemble! Very tricky. Very easy to make-needs only a tenon or mitre saw, and glue.
Brown Slidey (PDF)


"The top layer of the bottom blocks slide into the bottom layer of the top blocks. By moving all the blocks around, they can eventually be removed. Difficult to get the blocks out. A lot harder to put them back in. Fairly easy to make using ¼" and 9 mm plywood."
Black Nightmare (PDF)


"By moving these four half-panels in unison, you can move the other sides, and eventually remove them altogether. Not too hard to make, using 4mm plywood. Very difficult to solve. Minimum 13 moves."
Cubey (PDF)


The smallest and simplest of the puzzle boxes-the box is only 2" x 2" x 2", with a little sliding panel on each side.
Video: Puzzle_Prototype (cubey)

>> 15 Interlocking Solid Puzzle Plans
If it wasn't for Bruce Viney's site the Interlocking Solid Puzzles would dominate the free 3D puzzle plan world. That's mostly because of the fascination and frustration brought about by the "Burrs."
Wooden Jack Puzzle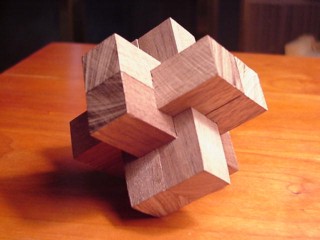 This is the basic six-piece burr puzzle.
Andromeda Puzzle – Free wooden 3D puzzle plan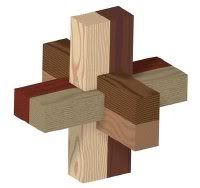 How to Make a Double Dovetail Puzzle

Perseus puzzle – Free 3D wooden puzzle plans

How to Make a Chinese Puzzle


The ingenious puzzle of the Chinese type is probably older than many of us could guess, but it is a puzzle that can be made by any woodworker. The complete article may be called, in form, a six-pointed pyramid.
Bandsaw Puzzle Cubes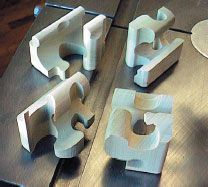 "Here's one way to put some of your cherished chunks of thick stock to good use, producing casual gifts of irresistible appeal to young and old alike. Kids under ten can reassemble these puzzles in 30 seconds, grown-ups in only three or four minutes if they're sharp."
Seven Piece Puzzle



This puzzle is based on shapes consisting of 1 inch cube combinations. The final assembled puzzle is a three inch cube. Precision size is critical. It is best if you cut the pieces every so slightly larger than the 1″ cubes to compensate for loss during sanding.
Holiday Knot Toy Plan (PDF)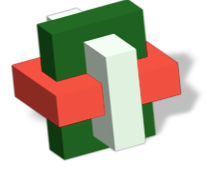 Jonah and the Whale Puzzle (PDF… for Scroll Saw)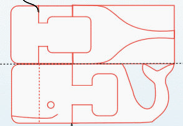 A Wooden Puzzle


"This puzzle is an extension of a fairly well known wooden puzzle consisting of six interlocking sticks."
Classic Puzzle Cube, 12 Pieces Puzzle


Der Holzknoten In Geman + metric

Holzknoten (Version 2) In German + metric

>> 3 Disentanglement Puzzle Plans
How to build wooden games The Ring Thing and The Camel and the Needle.


"These homemade brain teasers require generous amounts of ingenuity to solve—making them a challenge to old and young alike—yet call for very little in the way of funds or materials for their construction."
A Puzzle You Can Turn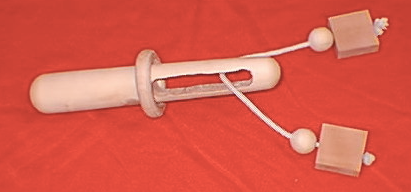 "This puzzle is pretty simple, fun to turn and fun to figure out. The only critical dimensions are that the square pieces will pass through the slot, the ring will pass through the slot but will not go over the large end of the shaft. The beads must not pass through the slot. Other than that, the dimensions are simply to make it look good."
>> 2 Just Plain Mean Puzzle Plans (No Solutions)
These are puzzles put together in such a way that there is actually no real solution. People will fiddle with them for seconds on end until your snide smirks and stifled chortles tell them that they may be the butt of a joke.
Cube In A Cube
They think it's a puzzle. They're sure there's some way to get the little cube out of the big cube. You can't.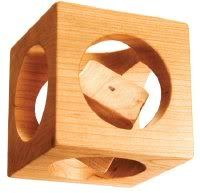 Pinball Cage


"Soak your wood block in water for 24 hours. Now the wood will be soft enough to stuff the ball through the hole. I placed mine on the floor and stepped on it carefully. The ball will pop in, and when the wood dries, nobody will be able to figure it out."
>> 3D Puzzle Inspiration
Puzzle World Design Competition
Gorgeous puzzles made by devious crafters from all around the world.
Puzzles
Homemade puzzles by Karin & Jürg von Känel
Interlocking articulated Lizard Plans cool, not free though: $8.50 us
>> My Sources
I went down the 3D puzzle rabbit hole because of this Sawmillcreek thread: 3 dimensional puzzles
Puzzle Plan Page
Puzzle Links
Homemade Puzzles – a Collection of Puzzles, Mostly Wood
Free fun woodworking puzzle plans
>> More Free Woodworking Plan Collections
25 Fast, Easy and Free Woodworking Plans for Last Minute Christmas Gifts
Build Your Dream Workshop: 23 Free Workshop and Shed Plans
12 Free Workshop Storage Plans: Tool Cabinets, Rolling Carts, Under Stair Storage and More
20 Free Cutting Board Plans + the 4 that Blew My Mind
15 Free Mobile Base Plans: Put Your Power Tools on Wheels
Wood Storage 101: 14 Lumber Storage Plans and 7 Storage Tips
32 Free Picnic Table Plans + Top 3 Most Awesome Picnic Table Plan Awards
15 Free Toolbox Plans for Woodworkers
24 Free Sawhorse Plans in the Hunt for the Ultimate Sawhorse
ToolCrib.com's Ultimate Guide to Free Woodworking Workbench Plans
9 Sandpaper Storage Ideas (+ free plans)
ToolCrib.com's Ultimate Guide to Free Router Table Plans
ToolCrib.com's Ultimate Guide to the Crosscut Sled